September 16, 2021 | Author:
---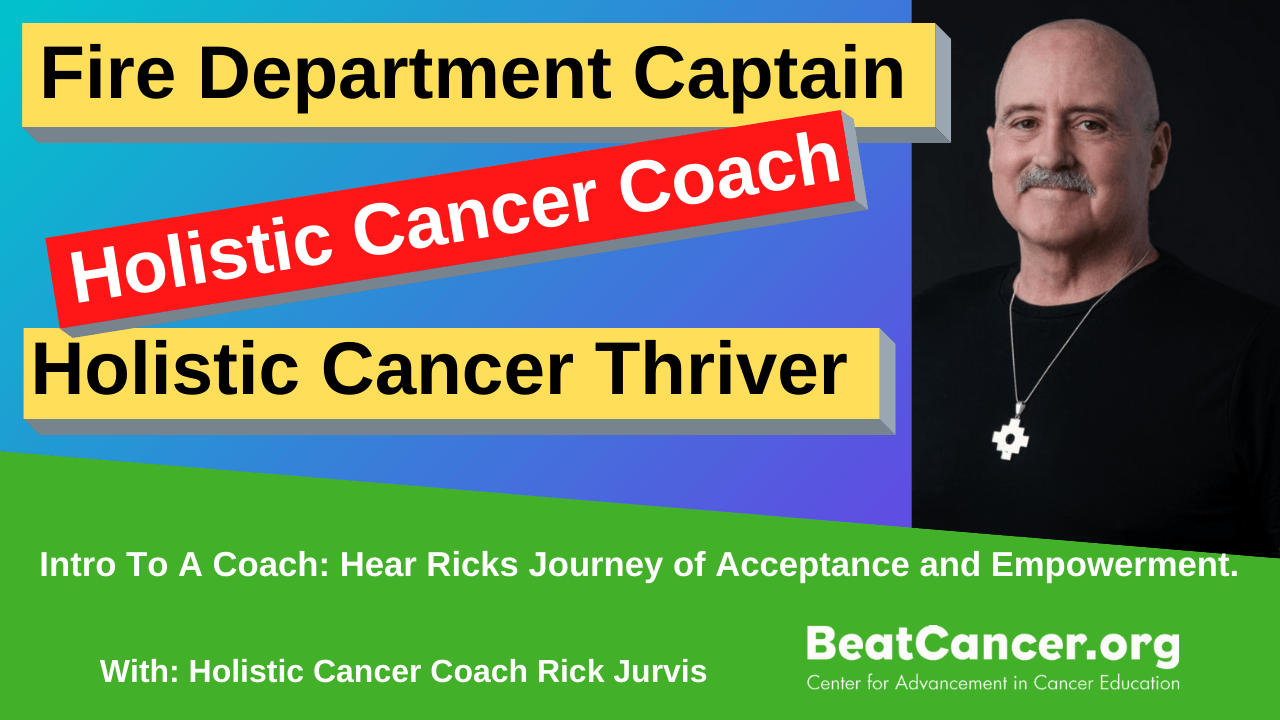 Rick Jurvis is a retired Fire Department Captain who served as Battalion Chief and Emergency Medical Technician. In July 2020, Rick was diagnosed with Glioblastoma brain cancer and is currently receiving treatments.
Rick gives credit to his 31 years of service in the Fire Department for having molded him into the healer he is today. Rick has studied many healing modalities including: Kuji-In meditation, Reiki, Shamanic energy healing (North and South American and Northern European lineages), Tai Chi, Qigong, Isha Hatha Yoga, Kundalini Yoga, Divination, and Medical Intuition. His most recent course studies have been in holistic cancer coaching. Today, Rick uses all his knowledge, experiences, and resources to be of service to anyone who reaches out for help. He has taken the best from all the classes and distilled it into his own healing method, which aligns the energy body, energy fields and chakras.
Rick states that the beatcancer.org coach certification program information helped lower his stress. The training empowered him to understand that he can accept the diagnosis from his doctor, but he does not have to accept the prognosis. It gave Rick hope.
Listen to this podcast to learn more about the healing modalities Rick uses and is passionate about!
1:30 Why Rick wanted to be a cancer coach. He lost his daughter to cancer a few years ago, and he himself was diagnosed just over a year ago (July 14, 2020).
2:49 Accept the diagnosis but not the prognosis. beatcancer.org certification program lowered his stress.
4:17 He was diagnosed one year ago (July 14, 2020) and conventional doctors gave him little to no help. Rick's healing approach is integrative with both conventional treatments and holistic modalities.
5:38 Started studying healing about a decade ago, including Reiki.
6:00 Exposure to burning chemicals and the stress associated with his daughter's cancer diagnosis are both connected to Rick's cancer.
6:46 Meditation, Reiki, Shamanic energy healing
8:58 Healing spirit first helps to get to the root cause of cancer.
10:19 Words of Wisdom – Keep going. Don't give up. There are a lot of survivors out there.
11:46 American Brain Tumor Association online conference set for this year.
12:06 Glioblastoma brain cancer – 13 months since diagnosed.
13:30 Stress can cause cancer in the caregiver.
15:25 Watch the time limit doctors give. No self-fulfilling prophesies.
16:69 Caregivers
19:00 Reiki is mainstream.
19:45 90% of cancers are preventable. Lifestyle choices matter and are more important than genes.
20:45 Cleanup after a fire, with everything in the air, is a dangerous time. Heart and lung disease are prevalent in the fire industry, and now cancer and PTSD.
22:18 There is always hope! The flip side of psychosomatic illness is psychosomatic wellness.
23:56 Be kind to caregivers. They are providing a great service to you.
24:40 Rick's tumor was tested, and it is not genetic.
24:49 Believe in your Intuition; words are powerful. What you put out there comes back.
27.02 Sometimes you have to let people go. Be open to new circles. Ask yourself, are these people good for me?
27:27 With Google, it can seem there is too much information and conflicting information on the internet. The holistic cancer coaching course is helpful in that all the information is in one place with sources and footnotes. The course is a starting point, not an ending point.
29:47. Diet, cancer, and sugar connection. Cancer doctors do not give you diet advice.
33:01 How to find Rick:
info@BEARPATHHEALING.COM
WWW.BEARPATHHEALING.COM