The only green tea I endorse with any kind of certainty for known cancer protective value is Dr. Lee's Tea for Health. I was honored to meet Dr. Lee many years ago and was impressed with his generosity as well as his knowledge, scholarship, and attention to detail. Simply put, this is a man who knows what he is talking about. ~ Susan Silberstein PhD
The Finest Organically Grown Green Tea
CERTIFIED HIGH-ANTIOXIDANT
710 EGCG™ Organic Green Tea
Up to 500% more EGCG than other green teas!
TeaForHealth's high antioxidant green tea is grown to extremely rigid quality standards. Every batch of our TeaForHealth green tea is tested twice during processing and packaging for total amounts of green tea catechins and EGCG content. The goal is to ensure that the product meets our high standards.
The FDA has officially allowed the first qualified green tea health claim pursuant to the February 23, 2012 Memorandum Decision of the United States District Court for the District of Connecticut in a letter issued to Dr. Sin Hang Lee
*According to the National Cancer Institute (NCI) pharmacodynamics data, daily consumption of 1200 ml (40 ounces) of green tea containing 710 mcg/ml (-) EGCG (epigallocatechin gallate) is equivalent to 1.5 times the lowest effective anticancer dose in a 153lb. person. (Learn More)
DR LEE PATENTED 3 PC STEEPER SETS
We recommend our unique, patented 13oz tea steeper developed by Dr. Sin Hang Lee and designed to eliminate all free air from the container in which the tea is brewed. The OX® oxygen exclusion tea steeper set is free of lead and heavy metals and it's available in several attractive designs in our Tea Shop. The base of the OX® steeper set incorporates a reservoir to protect against spills as well as a convenient holder in which to rest the lid while enjoying the soothing taste of our TeaForHealth®.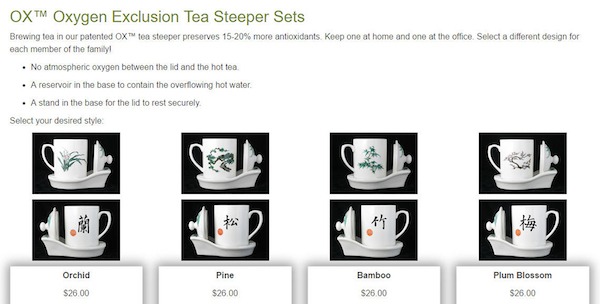 Purchase Here and 20% of the proceeds will go to
BeatCancer.Org to help with Cancer Programs.
Insert the Coupon Code: 23CACE

Receive a $1 discount on tea and a $9 discount on steepers.

TeaForHealth will credit CACE (BeatCancer.Org) $4.00 for each tea or steeper