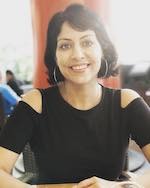 RACHNA CHHACHHI – Nutritional Therapist Ph. D, Holistic Nutrition Holistic Cancer Coach
Nutritional Therapist Ph. D, Holistic Nutrition Holistic Cancer Coach
pppppppppppppp
Rachna Chhachhi is a Ph.D. in Holistic Nutrition, Nutritional Therapist and Certified Cancer Coach. She has specialized in the reversal of chronic lifestyle diseases without medications and is WHO certified in Malnutrition for infants & children. She regularly is at international medical & health conferences as a speaker to share her case studies of disease reversal without medications across London, Paris, Singapore, New York & Dubai. She's written her first book, Restore, in 2014, and her book on Cancer is releasing on February 4, 2020, World Cancer Day.
Rachna herself suffered from rheumatoid arthritis (read her story here) before she got certified in holistic nutrition. Both her parents are cancer survivors. She reversed her father's stage 4 prostate cancer without conventional treatment, only with nutritional healing. Subsequently, she has had a high rate of success with cancer patients. She feels indebted to BeatCancer as their course helped her help cancer patients snatch their quality of life back, including her own parents.
Rachna practices across 27 countries to help prevent, manage and reverse cancer, autoimmune conditions and lifestyle diseases like type 2 diabetes, hypertension, high cholesterol, obesity, hormonal imbalances, rheumatoid arthritis, asthma, acne, etc. However, she is best known for her work with autoimmune and cancer patients, and she helps autoimmune patients reverse their disease, which rheumatologists say is impossible. Her work with cancer patients has shown a high success rate in cases undergoing conventional Western treatments as well as those who have opted only for nutritional healing. Through her and her patient's example, Rachna has proven in the last 11 years that the power of both physical and emotional nutrition, when combined, leads to true healing at the telomere and DNA level via the science of epigenetics.
Rachna has her own Holistic Health Coach Certification program which began in 2018 and has 60 certified coaches across the world. She has conducted over 500 health workshops and sessions for organizations like GE, Marico, Nomura, Accenture, Honeywell, Dunnhumby, Aon Hewitt, Aon Consulting, Cargill, etc and groups for doctors, communities for a cause and cancer associations.
Rachna has been writing on health and wellness for 20 years with BusinessWorld, Business Today, Outlook Business Magazine and TOI blogs and has been extensively interviewed by mainstream Indian newspapers and magazines. She has earlier worked with GE Consumer Finance, India Today, Business Today and PPC Worldwide, a United Healthcare group company.
Rachna works across Asia via workshops, sessions and online support to help patients, caregivers, and health experts sign up for the BeatCancer courses.
Awards received:
Woman Nutritionist of the Decade
100 Most Influential Global Health Leader Award
Follow Rachna on Twitter and Instagram as @RachnaRestores