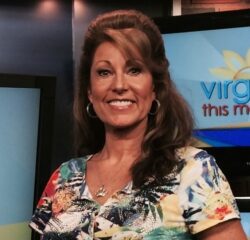 TAMI HULCHER RN, CNC, CHE
Nurse, Nutritionist, Guest of TV & Radio, Keynote Speaker
pppppppppppppp
FEATURED ON EXTRA TV ~ LIFECHANGERS WITH DR. MEHMET OZ & ON NBC, CBS AND ABC TV
Nationally recognized nutritionist, guest of TV and radio, formerly "The Queen of Health®", Nurse Tami is a mother of three children, a professional registered nurse, a writer and a certified cooking instructor. Her passions are nursing, nutrition, disease prevention, cancer awareness, and the environment. Tami has been advocating and providing nutrition and health education series for more than 16 years.
Tami's personal story of her beloved father's passing from heart disease; her mother's health challenges with COPD; her brother's liver transplant and her youngest sister's battles with obesity and diabetes has inspired her to continue her journey of educating others about disease prevention and increasing our quality of life through proper nutrition and lifestyle choices. As a registered nurse, she witnesses firsthand the detrimental effects of poor diet and lifestyle choices. Tami's goal is to have her own holistic health and nursing practice and continue on for her master's degree to become a nurse practitioner.
"It would be hard to top the enthusiasm, sincerity and energy of Tami Hulcher for promoting health and nutrition, especially in promoting health through proper diet." Dr. T. Colin Campbell, PhD, Best Selling Author "The China Study" and "Whole: Rethinking The Science of Nutrition"; Professor Emeritus Nutritional Biochemistry at Cornell University; researcher and author of over 325 research papers; featured in "Forks Over Knives"
Ms. Hulcher has been a featured keynote speaker for various conferences and organizations including the Physicians Committee for Responsible Medicine, The Wellness Forum Institute, American Heart Association, the American Cancer Society, Whole Planet Whole Children Expo, Virginia Commonwealth University, Pepperdine, UCLA, University of Richmond, Ritz Carlton/Maui, many public and private schools and other venues. She has served as moderator and/or panelist for various health and nutrition events.
Ms. Hulcher has been featured on TV and radio shows including some co-hosting duties. She has been featured on many national call-in shows and interviews and has numerous articles published in various magazines. Tami has been featured in Working Mother Magazine twice and was nominated for "Mother of the Year" by the same national magazine. She was also featured on the cover of Valley Living magazine for their Mother's Day issue. Her oldest daughter is a registered nurse; her son just finished his 8 years tour of duty with the Navy and her youngest daughter is currently serving our Navy in Pearl Harbor, Oahu.
Ms. Hulcher is a member and former speaker for the Physician's Committee for Responsible Medicine in Washington, DC having worked on their National Healthy School Lunch Program and on their Heart Health Program. Tami currently serves on the Medical Advisory Panel for BeatCancer.org and is a blog contributor.
Ms. Hulcher was chosen as one of two Virginia State Delegates to attend a national conference on children's health. Besides being a nurse, Tami is a certified health educator, a certified wellness and nutrition consultant where she partners with healthcare professionals providing nutritional resources. Through this program she works with a pediatric specialist and large Autistic patient base through UCLA's Early Autism Program.
Ms. Hulcher oversees and manages a thriving nationwide health and wellness organization by making a difference in the health and lives of thousands. She enjoys creating national and local 'health teams'!
A former California state beauty queen, Tami also ran a California charity serving as their executive director, executive producer and host of their celebrity event fundraiser featuring Academy Award winner, Mr. Steven Spielberg. Having worked with some of the top directors, producers, editors, actors and actresses in the industry, she left the entertainment industry/corporate America to pursue her own dreams of leaving a legacy for her children by making a healthy difference in the lives of others.
Press and Media Relations 804 323-3222 www.NurseTami.com (formerly www.TheQueenofHealth.com)