Testimonial from Larry K.
August 1, 2007
Center for Advancement in Cancer Education 
Dear Randi:
Please accept my deep, heartfelt appreciation for the very informative counseling which you gave me yesterday. It was a wonderful learning experience for me, filling me with hope and optimism for the future.
You gave me dozens of excellent ideas and practical suggestions for improving my lifestyle and restoring my health to a higher level.
I thoroughly enjoyed meeting you and thank you very, very much for helping me with your experience, knowledge, and wisdom. With best wishes to you and the center.
Sincerely,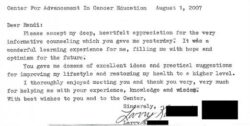 Larry K.