Testimonial from Rodney, Physician Assistant
Dear Susan,
I am so impressed with your knowledge and expertise, plus the generosity of your time. Your counseling and education has been astounding. You and your organization provide an invaluable service.
Les too is so happy to have met you and will be compliant with perhaps all or most of your suggestions.
Thanks so much for all you have done and all that you will continue to do.
Warmly,
Rodney Schlaffman, P.A.
Elkins Park, Pennsylvania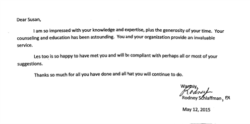 Rodney, Physician Assistant