February 2, 2017 | Author: Susan Silberstein PhD
---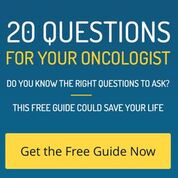 Some of you may have listened to the powerful interview I conducted with Chris Wark, in which he discusses his natural recovery from stage III metastatic colon cancer.
Chris was about to start long-term chemotherapy when he and his wife discovered the exact questions to ask BEFORE agreeing to destructive and potentially life-threatening treatments. These questions changed the way Chris looked at cancer treatment and started him on a journey that ultimately led him to healing without chemotherapy. And it changed the course of his life!
Today, over 13 years later, he's alive, cancer free, and in the best shape of his life — and it's all because he asked the right questions in the beginning. The answers he got from his doctor changed everything… and now he's on a mission to help patients get honest answers from their oncologists so they're empowered to make the best decisions for themselves.
Chris has just released what I consider a key resource that you need if you or a loved one is diagnosed with cancer. It's a list of questions that ultimately saved his life. And knowing the answers to these could save your life! 20 Questions for Your Oncologist is a powerful FREE guide and audio program to help you make informed decisions — and I am happy to share it with you. The guide includes some of the best questions that you (or someone you love) should ask an oncologist before undergoing treatment. While I recommend that you also ask many questions before undergoing surgery — which can often be life-saving — Chris does not really address that aspect of treatment. His list is really geared towards medical oncologists rather than oncologic surgeons.
20 Questions for Your Oncologist is a one-hour audio program in which Chris walks you through what he considers the most important questions that every cancer patient MUST ask his or her oncologist before starting ANY treatment. 20 Questions for Your Oncologist includes the audio, a transcript to follow along and take notes, a printable question list, and links to additional helpful resources. Actually, Chris shares more than 50 questions. Some are a bit impertinent and you may be uncomfortable asking them. That's fine — you don't need to ask them all. Nonetheless, this is a potentially life-saving guide and I am very happy to be able to share it with you!
"You have cancer" are the three words that cause more chaos in people's lives than just about any other words in the English language. With that pronouncement comes a panicked rush to find a solution, and many people, without even having time to process their diagnosis, are thrust headlong into treatments that can have destructive and sometimes irreversible consequences. Asking the right questions in the beginning is critical!
If you (or a loved one) were diagnosed with cancer tomorrow, would you know what to do? A cancer diagnosis sets off a whirlwind of advice from family, friends and doctors, and it's easy to get overwhelmed with opinions and treatment options. Yet the first days and weeks after you've been diagnosed are when you have to make critically important decisions.
Over the last four decades of helping tens of thousands of patients, we at BeatCancer.org have noted that one of the biggest problems cancer patients face is that their doctors aren't necessarily telling them everything they need to know… and patients don't know the right questions to ask. As a result, many patients make fear-based decisions, instead of fact-based decisions.
Chris Wark's powerful guide will help you get honest answers from your doctor so you can make treatment decisions based on facts, not fear. And whether you or a loved one is facing cancer right now or not, make sure you download the guide and hang on to it in case you learn of someone who gets diagnosed.
Click here for your FREE copy of Chris's eye-opening report 20 Questions for your Oncologist. Chris's mission is to give this guide to every cancer patient on the planet, so share this link and help spread the word!
Join the conversation. Create a topic in our forum.