May 26, 2016 | Author: Susan Silberstein PhD
---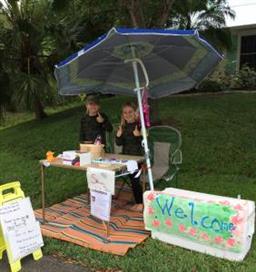 Last week I lectured twice in Vero Beach, Florida, at the invitation of Lori Long, an accomplished personal trainer and nutrition consultant.  In addition to her sponsorship, a surprising pair of beautiful supporters also helped. Vero Beach is the home of one of my cancer clients, a gentleman whose granddaughters decided to do a special fundraiser for BeatCancer.org.
According to Renee, the girls' mother, her daughters Gracie (10) and Ada (9) "are probably your biggest fans.  They've learned so much this past year; most from your books and pamphlets and talks with my dad! So basically, after learning about your BeatCancer.org organization and being involved with helping change their Papa's eating habits to fight pancreatic cancer (from shopping with me… to making a commitment within our own family to support his efforts by eating all vegetable and organic), the girls decided to raise funds for your visit to Vero Beach.  They were so excited to think that you would come to little Vero to help teach and encourage us.
"So one Saturday morning, while my husband and I were getting ready to clean around the house, the girls decided to make bracelets and sell them to raise money for your trip.  They put up a card table, umbrella, and signs with your picture and info.  Cars stopped by all morning and we listened to them tell each neighbor about your cause and your visit and how important it is to read labels and take Juice Plus+… we were so impressed because we knew it was from the heart!!  They continued to talk to their friends and invite them (and several came!) It was even better for them to have a chance to be able to personally give you the money along with hugs!"
And hugs I got — along with a formal ceremony, during which Gracie and Ada presented me with about $40 in bills and a pouch bulging with coins! All of us at BeatCancer.org send our heartfelt thanks!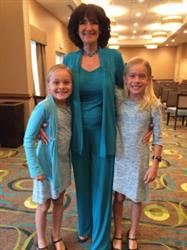 Mommy Renee continued, "We so enjoyed meeting you and love your heart and energy for others' health! Thank you again for coming and for all you do to help families learn to eat and live wisely for a better quality of life!!"
Honestly, the thrill was mine:  I love to teach about health and nutrition — especially to young people. What a privilege it was to meet these two lovely young girls and to know that they will likely be counted among the 50% of millennials destined to enjoy healthy, disease-free lives. Hooray for Gracie and Ada and all those privileged to cross their paths! Their passion for learning and teaching and giving is absolutely inspirational!
Join the conversation. Create a topic in our forum.