April 15, 2015 | Author: Susan Silberstein PhD
---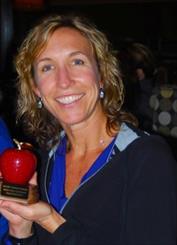 Jennifer Jackson: 25 Year Bone Cancer Survivor By Susan Silberstein, PhD In 1990, Jennifer Jackson was diagnosed with a rare bone cancer known as osteosarcoma, an aggressive disease with one of the lowest survival rates among pediatric cancers. Despite major surgery and aggressive chemotherapy, her prognosis was poor, and the likelihood was great that she would develop a secondary cancer years after treatment. And yet, this year, Jennifer celebrates her 25th year of survival in vibrant health!
Join us for this podcast, and hear:
Jennifer's amazing story, not only of surviving but also thriving
How she has continued her athletic accomplishments with only part of her left leg
Why her oncologists are so surprised to see her doing so well for so long
How a shift in thinking about the effect of food choices on her body made all the difference
Jennifer Jackson wasn't just lucky – she also chose to be well! If you are dealing with cancer, listen to this podcast and be inspired by Jennifer's story of hope and empowerment.

Subscribe to iTunes
Join the conversation. Create a topic in our forum.