November 28, 2016 | Author: BeatCancer.Org
---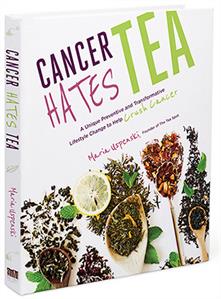 Maria Uspenski is the Founder and Owner of The Tea Spot in Colorado. Maria was diagnosed with ovarian cancer over 12 years ago. As a young, single, mother leading a healthy lifestyle, she was shocked by the life altering diagnosis. Tea had always been a grounding ritual that she took comfort in every afternoon. When her treatments were over she asked herself, "What did I do wrong to get here?". The more she researched the more she learned about ways to lead an even healthier lifestyle, and the more she read, tea was part of the answer.
Join us for this podcast, and learn about:
How she used tea to help in her battle.
What are the chemicals in tea that help with cancer?
How much tea do we need to drink?
What type of tea do we need to drink?
What's Matcha tea and how has it become part of her daily regime
Yoga, Meditation and tea
Amino acids exclusive to only tea and mushrooms
Lowering your stress hormones with tea
Tea vs Coffee
BeatCancer.Org has partnered with The Tea Spot to give our subscribers a 15% discount on all purchases at The Tea Spot. The Tea Spot will also be donating 10% of all sales back to BeatCancer.Org to help in the continuation of our programs to help prevent, fight and beat cancer. Please use the coupon code "cancerhatestea" at checkout to receive your discount.

Subscribe to iTunes
Join the conversation. Create a topic in our forum.