May 3, 2021 | Author: BeatCancer.org
---
I always tell people that having breast cancer was the worst and best thing I ever experienced. While the medical protocol addressed the body, this cancer journey re-shaped my life in positive ways that I could never have imagined. Today, life is a grand exploration of learning, teaching, and connecting through conscious dance. Today, I offer Pillars Of Healing – a support system for women who are recovering from breast cancer. These three pillars include individual cancer coaching and support, either online or in person. I also give presentations on cancer prevention and holistic practices that assist individuals in their cancer treatments. The third pillar I offer consists of a conscious movement dance practice, designed to help others feel good about themselves and experience a self-renewal of joy, hope and adventure.
Let me tell you my story: you will understand what I mean about renewal.
In February of 2011, I noticed that my left breast was swollen, warm, rather pink, with an inverted nipple. The texture was a little bumpy – sort of like the skin of an orange. Worried and flustered, I described my symptoms to a friend who in turn told her husband, a gynecologist. The next afternoon I had my first biopsy. Two days later I had a second biopsy, mammogram, and ultra-sound. Diagnosis: inflammatory breast cancer (IBC) with a survival rate of 45%. This rare form of breast cancer is aggressive and often misdiagnosed. I was fortunate with an early detection and treatment. I decided that I would be among the 45% of the survivors.
Within ten days, I had my first chemotherapy treatment unaware of the journey I would take over the next months. As predicted, my hair began to fall out soon after the first treatment. Providentially,  my first grandson was born in early March around the same time I shaved my head and donned my wig. I was inspired by a future vision of myself running behind a stroller along the California coast-line with a newly grown pony tail flying in the breeze. I would do whatever it took to regain my health and be a part of my grandchildren's lives.
During the summer of 2011, I had 16 chemo treatments, and in fall & early winter, a mastectomy, and 25 radiation treatments.  I was supported by my work-place colleagues, friends and family. This intensive protocol for IBC saved my physical body. I rang the bell of victory after my last radiation treatment just before Christmas 2011. A transformation of my life was launched.
Now what? What remained? A worn out version of me and a half inch of hair.
Dancing brought me back to life. Prior to cancer, I had been involved with the conscious dance movement for several years. In January 2012 I returned to the dance floor and committed to dancing my life "full out" for as long as I could. Dancing releases trauma in the body and frees me to move forward in my life. I felt positive about myself as a woman; my physical being became healthier, and my outlook on life was optimistic.
As my commitment to dancing gained strength and momentum, I became a certified Azul dance teacher in 2017. Azul is a path of personal transformation through conscious movement that supports an awakening of self.  For me the depth of this dance also supported a path through the struggle to survive and lead to a revitalized and vibrant life.
My healing journey has lead me to become a cancer coach focusing on integrative practices to aide others in their well-being.
Medical treatment saves the body and extends the life expectancy. 
Dance provides a journey back to a well-being of the body, mind and spirit. 
May my story encourage others to experience the renewing power of dance and may it lead to connections of shared joy.
---
TRANSCRIPT:
Karen: I would say look for the positive in your life and as you're looking for the positive reach out and grab a hand for support because we can do this together.
Automated: Hello and welcome to the Beat Cancer Answer brought to you by beatcancer.org the center for advancement in cancer education.
Carl: Hello this is Carl Wagner with Beat Cancer and I have here one of our wonderful coaches Karen Holmes and I'm going to let her talk to you about her journey with cancer and how she got to come to us and become a cancer coach. With that, Karen Holmes.
Karen: Hi, thank you, Carl It's wonderful to be here.
Carl: Welcome.
Karen: I mean that with a full heart and gratitude because being alive and being vital and full of energy is the message that I want to convey to all of the people who are experiencing cancer or who have experienced cancer as I did. It's a journey and it's a wonderful time in my life, to be able to come back and to coach other people during their cancer journey as they heal and recover from cancer. I came to being a cancer coach after I experienced inflammatory breast cancer, and that was back in 2011. I've been on this recovery journey for a long time, I feel very happy that I'm here and the journey that I have been on started when I found out that I had obviously breast cancer.
I was told that I was going to get chemotherapy, I was going to have surgery, and I was going to have radiation.  And all of that seemed rather intimidating, and I did go through all of that. But during that time period, I did a lot of research. I did a lot of reading about the other holistic practices that would be helpful, that would support me through my cancer recovery. And for me, those were the most important steps that I could take. That I could be my own cancer advocate.  Although, I didn't know anything about cancer coaches at the time and so I developed some of the strategies that I've learned and I've read about in the beat cancer dot org program. And so, that all comes around when I finished my medical treatments, and I'll say that they cured me, and that's in my story. That I became this…okay you're done with all the treatments, you're done with the radiation fine we'll see you in six months. Then it was now, what do I do?
That now what do I do, came to me as dance. I knew that food and movement were the best solutions to getting my vitality back.  So, I'll say that dance brought me back to life, and that's where my recovery journey really begins because I knew that I had to change my lifestyle. I knew that I wanted to become somebody who was alive and vibrant and not just somebody who was sitting around wondering what to do next. For me, the dance enlightened my life in fact, I tell people I retired from my job and I flew to Maui and I danced. And that's true, and I came home from Maui and I didn't go back to work. I didn't go back to the career that I'd had for 32 years. Instead, I began this journey of finding out what I wanted to do next and how I could support particularly other women in their breast cancer journey and that's where my focus is. And so, I became a dance teacher facilitator. I facilitate something called Azul, which is a conscious movement dance. now you're going to ask me, what is Azul?
Carl: What is Azul?
Karen:  Conscious dance is really awakening one's heart and awakening what's inside of you. Through the dance, I was able to embody all of the feelings that Ii was going through. It's somewhat, and I've talked to other women they agree. It's somewhat like PTSD, only for cancer patients, where you figure out that wow, I've gone through all my treatments, I'm supposed to be okay and now I realize what I've gone through and what I need to do to change. Concurrently, I changed my eating habits and I did a lot of internal work to figure out where my path was going to go. That path led me to cancer coaching and that's where I am today. To really believe in the support for other women.  I want to be able to support other women in their recovery.  I think it's really important to make that connection one-on-one.  That's what really keeps us alive, that's what motivates us, inspires us to become all that we can be. That once we've gone through this cancer treatment, we have the opportunity to change our lives.
I tell people breast cancer was the worst thing and the best thing that ever happened to me. It was the worst thing because I don't wish it on anybody. It's not a pleasant journey, it can be full of suffering and angst.  And yet, what it gave me was gratitude for my life. It gave me the opportunity to change, reach out to people, to become somebody alive, somebody who can dance her way into freedom of all possibilities and ways of being.
Before I logged on to do this interview, I danced for an hour. It gave me that insight as to where I wanted to go and what I wanted to say. That's where I am today. Here I am as a cancer coach. I've spent the past few months clarifying my vision. When I was going through my cancer treatments, they say have a positive vision, so my positive vision at the time was running down the coast of the Pacific Ocean. I was having a new little grandson at the time and with my hair in a ponytail so my hair would be grown and so that was the vision. The vision that I have created now, is one of a three-part vision that I created in something called pillars of healing and that's become my offering to breast cancer and cancer patients, and women who are recovering from cancer.
So, in the pillars of healing, I offer three opportunities and the first one is a one-on-one cancer coach. Call me up, text me, send me an email, and I will do a free discovery call with you that we can see what it is you as an individual need. I think of you as my…I have created Lily; I have a blog on my website that lily is the person that I like to talk to. And for her I say, I offer you that one-on-one individual assistance, guidance, I will listen and we can move forward together complementing whatever medical treatment you prefer to take. So, that's the one-on-one coaching. The other two other pieces…and the second pillar is really the dance, and offering dance classes and opportunities for women experiencing cancer. The kind of dance that I do, which is Azul, is very freeing. It can be done by anybody and I say anybody regardless of one's physical attributes, because it's something that you bring from inside.
Azul is not something that you're going to have choreographed steps. It's I play music and I facilitate and you move your body to whatever comes up. You listen to your body and say oh I'm going to allow this particular movement or something comes up and you'll say I understand where I'm going now.  So, that movement which I believe is critical to our healthy well-being, it really is. If you had to ask me what are the three things that would be movement and what we put in our bodies, food, and some kind of connection with…that I want to say spiritual or guidance through meditation or whatever you choose to take. That those are the three big things that are going to heal us. And that leads me to the third pillar.
The third pillar is one where I am available to do presentations in person at some point or online for people on A how to prevent cancer or what are some of the things that you can do if you are experiencing cancer or somebody you know and love. Because I believe that all of us have known someone who has had a cancer journey.  So those are the three pillars. The one-on-one consultation. the dancing opportunities through Azul and the third one is I am available to give presentations to your organization, to your group, to your meeting, it can be a short one, it can be a fairly lengthy one, and it's really geared to what the organization or your group needs and wants. On my website which is pillars of healing dot org, I give a list of five things but I'm very happy to tailor any kind of presentation using the things that I believe are truly needed and wanted and beneficial to people who experience cancer. So, that in short, is really what pillars of healing are all about.
Carl: Well there's a lot to unpack there, but I want to say congratulations first of all for sharing your journey and also getting through from what I was reading a 45 chance of healing and basically going through all the big three, the surgery, the chemotherapy, and radiation and going through all the hardships that go along with that losing your hair and just a fear to finding your life purpose and sharing with others I think it's wonderful. Thank you so much for all of that.
I always laughed when you talked about the Azul being something anybody could do because when I dance and I'm expressing myself you better stand back a little bit because you might get knocked over by accident. I'm not a good dancer so I was just trying to imagine that but that's wonderful. So, how long have you been a coach now?
Karen: It's coming up on a year.
Carl: Wow, terrific.
Karen: It's coming up on a year, I do believe that the coach in me stems from…I was in education and had a really nice career and I am very available to listen to people. So, the coaching just falls into line with what I have done for a very long time and being able to help people from where they are to what they want to become and that's in essence what a coach does.
Carl: Yeah, so it's a natural progression for you and you have such a soothing voice, I have told you. I think even if people talk to you on the phone and didn't see you or could be an interactive person, I think just that calming voice and like you said I'm here to talk to and to listen. I think a lot of people are missing that, they don't get that in the traditional medical treatment. If they're going through traditional medical treatment, I think it's really great to take on a coach. Somebody who's there to listen to you and guide you, that's wonderful.
Karen: I think it's really important when I'm coaching or anybody is coaching, to listen to what the person who's going through the experience wants to do like. I became my own advocate because I studied and I read a lot and I looked at the research and if somebody had been there to guide me, and tell me that there was research and give me the information I would have been able to move forward may be faster and a little deeper. I truly believe that there's a lot of information out there, and a lot of research that's been done and I have to say…repeat myself, that I think it's the food piece is really important. I changed the way I ate, I began to dance, I began to look forward to life and if we look at the research what it shows us, is the people who are the survivors, or the people who move forward, are the ones who say okay I have cancer and I'm still going to be alive and well and full of energy.  It's that vitality…when I was going through my treatments, a dear friend said to me. She said, somebody, has to be on the winning side and I think that's you and so I had to believe that too.
And that hope and inspiration that I can give to other people is so important because I've been through…that I've walked those steps and I know that on a daily basis it's not easy. But yet, there's hope. There's hope at the end as we graduate from the medical treatment. That we don't graduate from a way of life. What I clearly see with the holistic practices, is that there is good healthy living for anybody, for everybody, that's what I believe gives us that push to become more of who we can be.
Carl: And you're a wonderful role model for people that have been through it and have this great fear of recurrence. That's a big deal, people like you said, what do I do now? Now that my medical treatment is done, they just pushed me out of the nest, so to speak and now you have to fly and you don't know what to do exactly, sorry I didn't mean to cut you off.
Karen: No, that's okay, because I was thinking of the word that you use, recurrence, and I hear that a lot.  I'm fearful of recurrence and these steps that we can take as individuals and as a group, to ward off that recurrence, I think are important and in your cancer journey just making it through those treatments but then setting up a lifestyle that will tell those little cancer cells not to come back.  We have them floating around in our body but we don't need them to reoccur, and that's the lifestyle, that's the coaching that we can do on an ongoing basis.  Whether we're one year, two years, 10 years, 20 years, out from our treatment. That our lifestyle changes and our view of life become more positive, that we can be filled with gratitude on a daily basis and that becomes the message that I really hope that people will take.
Carl: Yeah, a change of lifestyle is so important and some people don't change. You're a wonderful role model of how you can go from one life and go through cancer and make your cancer mean something. Take it to the next level and show people yes, you can completely change your life. Maybe this new life will be a better life than the old life, but sometimes that wake-up call is all you need.
Karen:  It can and you can create that better life you and I and other people have that, I want to say opportunity, to create a better life and I'm here to help other people do that. That's my function as a coach.  It can be just a tiny thing because if you're on a street corner and you take just one step to the left or one step to the right it can change your path. So, we start out with tiny steps that are very doable in your life, in my life that's what happened.  And from that, you can make other changes and you see the possibilities.  You see how it can change you, you can also see the benefits of some of these changes.
Carl: Yeah, well some of the benefits you…I hate to say you can't see because it's like a prevention measure, you're talking about preventing.  When you eat better, some people just don't see it but they don't realize how eating in a bad way is negatively impacting their life.  And two, with the movement, the dance people don't realize how critical that is.  I worked with a cancer patient or a former cancer patient when he had some lymph nodes taken out and it was vital for him to do things with his arms which he wouldn't normally do to get the juices flowing because of the lymph nodes.  so yeah
Karen: I think many women particularly those who've had breast cancer are fearful of the lymphedema that can occur. There is so much that one can do to contain the lymphedema that it is not just putting on a sleeve.  And there's so much you can do with movement, with the massaging, with some of the other things that are recommended. Those are the little touches, the little changes that really can change your life.  I had to smile about the eating piece because for me, when I changed the way I ate, I could feel the difference. I could feel…I also have to say I lost 50 pounds.
Carl: Congratulations.
Karen:  So, that was a big deal. That was huge. And when I looked at what I was eating, I could see why cancer had a field day. So, little by little I changed it. It didn't happen overnight, because it's hard to change what you eat but I did it and I would be delighted to help somebody else do the same thing.  And you have to see where it is that you or your client wants to move. Some people are very happy with what they eat and some people are very willing to change little by little. You don't do it overnight as I said but there are small changes. As for the dance, I dance because I love to dance.    I also know that anybody can dance and most people like music. So, you can move to the music in any way. I also want to state that it's very important to find the movement that your body enjoys. If you don't enjoy running or you don't enjoy yoga, if you don't enjoy lifting weights, chances are you're not going to do it over the long term and that's what we're looking at.  I think it's important to discover what the rhythm of your body responds to.  Whether it's a walk outside. Whether it's on an elliptical in a gym and some of the gyms are open and closed right now. Whether it's bike riding with your son or daughter or a partner. Those are the kinds of things that we can discover, will resonate with your body.
I go back to the lymphedema piece. One of the things that I learned in my recovery was that I was very careful to build my arm to a state where it had the muscle tone. Where it had the ability to have full range of motion and the lymphedema, I was really careful with but I got that arm so that it is today as strong as it can be today, and that's very important. so that's something to work with, with a lot of people.
Carl: Thank you so much, I appreciate that.  People don't realize what someone goes through when you say breast cancer.  They don't think anything's happening to their arms.  So, the eating part…certainly people can feel that benefit by just internalizing the fact that they're changing their internal terrain and making their body an inhospitable environment for cancer to thrive.  When they eat the wrong way, they make their bodies a place where cancer likes to live.  And I like what you said about doing something that people do for a long haul.  It's like you said, it's a lifestyle or making…that's so impactful and I hope people get that message, that it's the long haul.
You have covered most of my questions but I do want to ask, when you're taking the course, was there something that stood out for you or you learned that you didn't really know before?  Something that really added to your program?
Karen: When I did the beat cancer program, I found first of all that is synthesized and brought together a lot of the information that I had picked up along the way.  And so, it is put in one place, I want to say an encyclopedia, a compilation of the practices in which I believe. And to add to that, it was backed up by research and that's very important to show that there is definite research that there is scientific evidence for these holistic practices. Because when you talk to people, they go oh that's just what somebody's saying and that's really not true.  What we're saying is these practices have developed out of research, out of scientific data, that shows how we can prevent cancer and how we can work with our cancer recovery and that it's not simply what somebody is putting forth in what they think.  But we know that it helps us to see that it's helped people in all different countries and a variety of different cancers, in different stages of the cancer.  So that research piece really was important for me.
Carl: Yeah, people don't realize that.  Susan was doing that for 35 years. This is before she ever made a course out of it, so it's not only the science that she researched but it was put into practice for 35 years of helping people.  Oh, I did notice that you said the pillars of healing dot org, is that a non-profit?
Karen: No, well it probably will be a non-profit and so I had a choice of what I was going to name this. I was advised that I could use the dot org and rather than the dot com so that's where it is.
Carl: Okay, yeah. Whenever I see a dot org, I think right away non-profit.
Karen:  Well I will be working with people to build, what I want to say a business, but a business that really goes back into some of the cancer research, some of the cancer organizations that I believe are doing great work.
Carl: Good for you. Well, look at that, a whole new you. Who knew?
Karen:  It's great, well you ask for like that a one-word aha moment, I think it's gratitude, I think it's vitality, I think it's inspiration, and that's for me moving toward a healthy life for cancer clients, cancer…I want to say people who have experienced cancer, because it's not just people who are going through treatment now, but who have in the past and want to make their lives better. If they've stopped treatments and now wondering what they're going to do, how can I have a good life without a recurrence? That's also important.
Carl: Live in victory and not fear.
Karen: That's so important, isn't it?  That you live in a positive world and sometimes that's difficult to do.
Carl: Especially if you don't have anybody telling you there's another way. So many people their family members just push them towards the doctors and when the doctors are done with them, they push them back. And they don't have anybody like you to say they look, there's a different type of life.
Karen: Or they revert back to what they've been doing before they got the cancer. Worst case scenario, if we revert back to that state, chances are it would recur. So, we move forward, we move towards that better lifestyle, that healthier lifestyle.
Carl: Okay so I'm going to sum it up here because I think you did a great job of covering everything. So, just a one bonus question, if there is one tip that you could give and then you gave some great golden nuggets all throughout, I mean I could pull out five or six different things I can make sound bites out of.  But if you had one tip, what would that be?
Karen: I'm talking to your lily; you are part of my blog and I do tips for Lilly and letters to lily.  lily I would say look for the positive in your life and as you're looking for the positive reach out, reach out and grab a hand for support because we can do this together.
Carl: Good one. Well, thank you so much.  Is there anything else you would like to add?
Karen:  Check out pillarsofhealing.org and my email is on there and my phone numbers on there. I'm really good about answering emails and would love to connect with you and do a discovery call and see where we can get together…what makes sense for the two of us to work through a cancer journey together.
Carl: I'm glad you mentioned that.  I'll put the links in the show notes for YouTube, but some people listen on podcast and it's great to mention that verbally, thank you. All right, thank you so much for your time.
Karen:  Thank you for this opportunity.  I really appreciate what Beat Cancer is doing and has done for me and other cancer coaches. I think it's really important that it become and stay a vital organization in the community.
Carl: It's a blessing for me to meet the coaches. I had a great time meeting you and again you are going to be a rock star with that soothing voice and positive attitude and being such a good role model, and I think that's great.
Karen: Thank you.
Carl: You're welcome.
Karen: I've been looking forward to this for quite a while.
Car Wagner: Yeah, sorry about the delay COVID-19 really just threw a monkey ranch in.
Karen:  Well, to you and everybody else.  But it gave me an opportunity to clarify what I wanted to do so it was good for all of us.
Automated: If we helped you learn just one thing today about how to prevent cope with or be cancer, then we have succeeded in our mission. Please remember to like, subscribe and comment. We appreciate all of your feedback and love your suggestions. your positive ratings help us to get discovered so we can help save more lives. Thank you again for joining us and best wishes for good health from all of us at beatcancer.org.

Subscribe to iTunes
Join the conversation. Create a topic in our forum.
---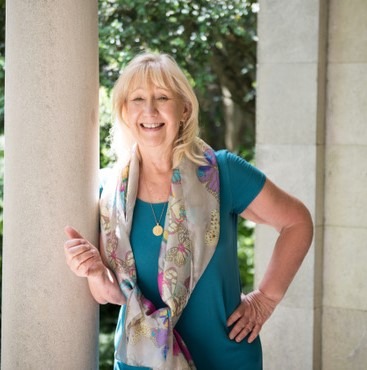 Karen R. Holmes
55 High Gate Lane
Blue Bell, PA. 19422
215.307.5407
Certifications & Education:
Azul Dance Facilitator/Teacher: Azul Conscious Movement (International)
Ayurvedic Consultant: Kripalu Center for Yoga and Health
Lehigh University: Educational Administrative Certification
Renesselaer Polytechic Institute (RPI): MS Communications
State University of New York at Albany: BA English