November 6, 2014 | Author: Susan Silberstein PhD
---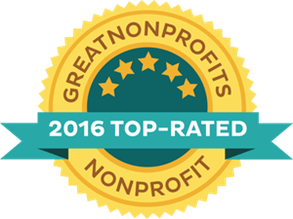 Thanks to all of your great responses, the Center for Advancement in Cancer Education has recently been honored with the prestigious 2014 Top-Rated Award by GreatNonprofits.org, a leading provider of user reviews about nonprofit organizations. We are truly excited to be named a Top-Rated Nonprofit for the fifth year in a row.
The Top-Rated Nonprofit award was based on the large number of positive online reviews that BeatCancer.org received – reviews written by volunteers, donors, clients, and health professionals. Out of 105 who posted personal experiences with BeatCancer.org, 102 gave the organization a five-star rating.
Here are some of the recent posts:
"I am a holistic physician and cardiologist. I regularly refer cancer patients to The Center for Advancement in Cancer Education because the Center provides a service that is not available anywhere else…"  
"I was lucky enough to receive personal training from Dr. Silberstein in 2011. It really helped to make sense of all the information and misinformation about cancer causes and treatments….""
CACE was an incredible help to me and my family when my father was diagnosed with pancreatic cancer. The consultations they provided…not only helped my father immeasurably but gave us all tremendous knowledge that we now pass out to others…. We owe the Center for Advancement in Cancer Education a debt that we cannot repay." 
"This organization is the ONLY one I would contribute money to for the prevention of cancer." 
According to Perla Ni, CEO of GreatNonprofits, "Savvy donors want to see the impact of their donations more than ever. People with direct experience with BeatCancer.org have voted that the organization is making a real difference." Being on the Top-Rated list clearly gives donors and clients more confidence that this is a credible organization.
GreatNonprofits is a leading site for donors and volunteers to find reviews and ratings of nonprofits. Reviews on the site influence 30 million donation decisions a year.  Read our great reviews and add your story.
In addition to the Top-Rated Award, BeatCancer.org will be added to the GreatNonprofits #GivingTuesday Guide—an interactive guide for year-end giving to top nonprofits that comes out around Thanksgiving.  The concept of Giving Tuesday is this: We have a day for giving thanks. We have a day for getting deals. Giving Tuesday is a global day dedicated to giving back.
On Tuesday, December 2, 2014, charities, families, businesses, community groups, and students around the world will come together for one common purpose: to celebrate generosity and to give.  It's a simple idea, and you can be part of this global celebration of a new tradition of generosity.  Just find a way for your family, your friends, or your company to join together to give something more. Then use social media to tell everyone you can about how you are giving. As we move into the holiday season, please put BeatCancer.org on your gift list. You can either make a direct donation or help us fundraise through our BeatCancerChallenge. Thank you!
Join the conversation. Create a topic in our forum.