July 21, 2016 | Author: Susan Silberstein PhD
---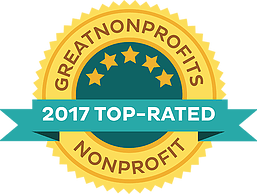 Thanks to all of you who wrote words of praise! Because of all of your great responses, the Center for Advancement in Cancer Education has again been honored with the prestigious Top-Rated Award by GreatNonprofits.org, a leading provider of user reviews about nonprofit organizations. We are truly excited to be named one of the first winners of the 2017 Top-Rated Nonprofit Award – and for our eighth year in a row!
Our 2017 Top-Rated Nonprofit award was based on the large number of positive online reviews that BeatCancer.org received – reviews written by volunteers, donors, clients, and health professionals. At the time this article was written, out of 143 persons who had posted personal experiences with BeatCancer.org, 139 (98%) gave our organization a five-star rating.
Here are some of the most recent posts:
"If you or a loved one have cancer, this is the one connection you should definitely make. It is the only place where you can get one-on-one counseling for free. When so many sites take advantage of people in their desperation, this is the only place that doesn't. I can't say enough good things about this organization. And not only is it free, but it deals with supporting your body and your immune system through lifestyle changes and natural means, because if your immune system doesn't survive, neither will you. This gets to the cause, rather than putting a band-aid on. There's no pressure to use or not use conventional treatment, but you get the advice you need regardless of how you are treating your cancer."
"You will never find a more compassionate, helpful, caring, and cancer proficient team of professionals. The Beat Cancer team is wonderful; they helped my family and I through some tough times when both my sister and dad got cancers at the same time.I am a family practitioner, but I really appreciated the help and guidance from the team.Dr Silberstein and staff are wonderfully helpful always going the extra mile to get you the resources you need to educate self, family and care providers…I just can't say enough of our gratitude to you all."
"I have known about this organization for 15 years. They are passionate and tireless in their work and desire to help others. I have heard Dr. Susan Silberstein speak several times and it is always informative, captivating, eye opening, practical, scientific, life saving information."
"I found BeatCancer.org after I was diagnosed with breast cancer and felt like I wasn't being given all the information I needed to make an informed decision. It's a fantastic source of information and gave me much confidence when speaking with doctors and it helped me to make informed decisions about my treatment."
"This organization helps so many people and allows those with cancer and their relatives to decide which treatment they want to use for a cure. Susan is a powerful speaker and has advocated prevention way before early detection with healthy lifestyle choices. If I ever get cancer, I would definitely contact BeatCancer.org!"
These posts and many others like them mean more to all of us at BeatCancer.org than you could possibly imagine. For almost 40 years, our staff and volunteers have been toiling constantly and struggling financially to make our special contribution to the cancer field. When we learn of your appreciation, we are revitalized!
According to Perla Ni, CEO of GreatNonprofits, "Savvy donors want to see the impact of their donations more than ever. People with direct experience with BeatCancer.org have voted that the organization is making a real difference." Being on the Top-Rated list clearly gives donors and clients more confidence that this is a credible organization.
GreatNonprofits, in partnership with GuideStar, The Huffington Post, and Volunteer Match, is a leading site for donors and volunteers to find reviews and ratings of nonprofits. Reviews on the site influence 30 million donation decisions a year. We hope yours is one of them! At the very least, read inspiring stories and reviews and add your story.
Join the conversation. Create a topic in our forum.