July 11, 2016 | Author: Susan Silberstein PhD
---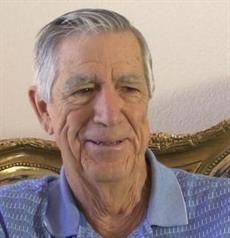 Farewell to another great contributor to the field of non-toxic cancer therapy.  On July 4, Bill Henderson, a member of the BeatCancer.org Advisory Panel, died at the age of 84.  In many ways, his story was much like mine. In 1990, his wife Marjorie was diagnosed with ovarian cancer. Four years later, after enduring multiple operations, several rounds of chemotherapy, and intense pain, she died. Echoing my own feelings after watching my own spouse suffer and die from the ravages of his therapy, Bill declared,
"After watching that, it was hard for me to believe that millions of people each year had to endure that same torture. I now believe that the treatment she received was the cause of her death, not the cancer." Like my own quest that began 18 years earlier, when my husband began a year of grueling treatments that hastened his death in 1977, Bill Henderson went on a mission to let people know that they had options for their cancer treatment and to help others avoid the same tragic fate that claimed his spouse. As I often say, tragedy can make you bitter or better. Bill took a tragedy in his life and used it to help thousands and thousands of people.
Like myself, Bill read, researched, wrote, and coached thousands of patients searching for cancer treatment alternatives. He was understandably proud that his books, his e-newsletter, and his web talk radio show reached thousands of patients and health professionals all over the world. Like me, Bill was not a medical professional but a "reporter" and provider of resources, referrals, and information on non-toxic therapies. The updated version of his most popular book, Cancer-Free – Your Guide to Gentle, Non-Toxic Healing, is available from Amazon. If you enter through this link and type BeatCancer.org in the charity bar after you sign in, a portion of your sale will support our work.
Retired from successful careers in the Air Force and computer fields, Bill took on a new full time job as a "labor of love" to help cancer patients become cancer-free. His friend Ty Bollinger (The Truth about Cancer) wrote a few days ago, "Perhaps the date of [his] death – July 4th – is significant, since Bill was a patriot and a veteran. " Chris Wark (Chris Beat Cancer) wrote, "On July 4…Bill Henderson gained independence from his earthly body." In keeping with the metaphor, I will add that Bill was a health warrior who strove to help cancer patients gain independence from the strict confines of the cancer treatment establishment.
In December of 2015, at the TTAC Charity Awards Gala in Nashville, Bill Henderson was honored with a "Lifetime Achievement Award" for his work as a "cancer coach." Since then, Bill began fighting his own cancer battle against non-Hodgkin's lymphoma. He did well with natural treatment protocols, and his unfortunate death was due to cardiovascular complications after a blood transfusion. Bill's widow will be stepping into his shoes to honor his legacy and continue his work. Remember that we too, at BeatCancer.org, are here to help patients in need of cancer coaching.
Bill Henderson has been characterized as "a wonderful, wise man with a big heart who left an incredible legacy."  I hope one day to earn the same love, admiration, and praise.
Join the conversation. Create a topic in our forum.