December 22, 2016 | Author: Susan Silberstein, PhD
---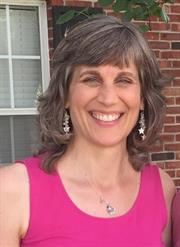 Jackie Zofkie of Dayton, Ohio, has some special friends. Nearly two years ago, I was approached by one of them who was extremely worried about Jackie's advancing invasive lobular breast cancer that had spread into nine of her lymph nodes. She had had a double mastectomy and was thinking about discontinuing chemotherapy.
Jackie and I began working together in February of 2015. The Jackie I met then is not at all the same woman today! Calmer, more confident, more focused, more empowered, she recently wrote, "My life has been forever changed in a positive direction primarily as a result of the counseling and coaching that BeatCancer.Org provided with Dr. Susan Silberstein."
On September 28, 2016, in gratitude for that help, she held a breast cancer fundraising dinner for BeatCancer.org and donated $300 to our cause. Thirty-one women filled capacity seating in the private party room at Basil's on Market restaurant. Jackie and Tami, two breast cancer survivors diagnosed at stage 3, shared their journeys. Both are Juice Plus+ reps and believe in the healing power of whole foods, but they had different types of breast cancer, benefitted from different diagnostic tools and chose different treatment options. Jackie's journey started with a thermogram since mammograms and ultrasounds missed her cancer, whereas Tami's mammogram detected hers. Jackie chose a mix of standard protocol with mainly holistic approaches while Tami was more mainstream in her decisions.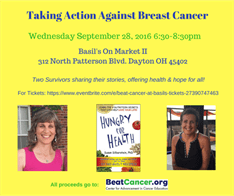 While Jackie and Tami shared their stories, guests shared a meal and had the chance to do something tangible for those who would be newly diagnosed by writing out individual personal Love Notes courtesy of Christine Martinello's The Original Love Box. These love notes were then sent to the Stefanie Spielman Breast Cancer Center for distribution to those receiving a breast cancer diagnosis in October during Breast Cancer Awareness and Action month.
Last week, Jackie reported that her tumor markers were down and her blood test results were within normal range. She is still working hard to be well and is now studying to become a Certified Integrative Nutrition Health Coach so she can help others on their wellness journeys. She sees her mind-body-spirit transformation as the gift that her breast cancer brought to her and others.
If you would like to receive some personalized cancer coaching or would like to sponsor a breast cancer fundraising event, please contact us.
Join the conversation. Create a topic in our forum.