November 3, 2014 | Author: Susan Silberstein PhD
---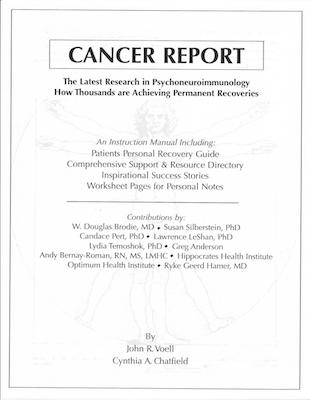 "Every cell in your body is eavesdropping on your thoughts."
–Deepak Chopra, MD
"Your biography is your biology."
–Carolyn Myss, PhD
"Your issues are in your tissues."
–Hermann Muller
"Deal with your emotions or they will deal with you!"
–Susan Silberstein, PhD
For more than 37 years, I have lectured, taught, written and coached patients about the powerful role of stress, emotions, beliefs, behavior and personality in developing or reversing cancer. At the core of these concepts is psychoneuroimmunology (or PNI), a research field that began in the 1960s to examine the relationship between stress, the immune system, and illness. A half-century later, PNI investigators have become increasingly sophisticated in  discovering how psychosocial factors moderate stress responses and in mapping the specific biological pathways and cellular mechanisms by which mental and emotional states affect the immune system, the endocrine system, cancer risk, and even cancer recovery.
As published in the journal of the American Psychological Association, "The sheer weight of the studies in PNI–both animal and human–has really been very convincing," says Janice Kiecolt-Glaser, PhD, of The Ohio State University, who along with her husband Ronald Glaser, PhD, is one of the field's pioneers. "There's much more acceptance among basic scientists and clinicians that the links between stress, the immune system and disease really do mean something."
Several years ago I was interviewed for my own separate chapter in one of the best books on PNI and cancer I have ever encountered. The Cancer Report, by John Voell and Cynthia Chatfield, is a must-read for anyone touched by cancer as well as for health professionals who work with cancer patients.
The impressive research and case studies in the Cancer Report were provided by Douglas Brodie, MD, Lawrence LeShan, PhD, Candace Pert, PhD, Lydia Temoshok, PhD, Ryke Geerd Hamer, MD, and others, in whose company I am honored to be included. The book features studies based on 30 years of research with more than 70,000 cancer patients and explains how many patients have achieved permanent recoveries by addressing the emotions that may have helped promote their disease.
Although it is based on scientific research, the Cancer Report is also a very practical handbook. I know – I personally ghost-wrote the Patients Personal Recovery Guide section. But others, much more well known than myself, concur.  Dr. Christiane Northrup, a brilliant clinician and author, endorsed the Cancer Report as a "wonderful, practical, organized and user-friendly" tool that provides the reader with "specific healing wisdom that's not easy to find elsewhere." Louise Hay, bestselling author of You Can Heal Your Life, urged: "… read and put into practice the remarkable breakthroughs in healing outlined in this report, moving everyone from a cancer victim to a cancer victor." Bernie Siegel, MD, author of Love, Medicine and Miracles, endorsed the book in these words: "The Cancer Report can provide coaching and guidance to those who want to understand what survival behavior is all about."
If you care about anyone with cancer, you may wish to gift him or her the life-changing and potentially life-saving 362-page patient manual known as the Cancer Report. If not, you may wish to own this incredible book to have on hand to lend out in case a friend, neighbor, relative or co-worker gets a cancer diagnosis.  In fact, as Louise Hay wrote in her endorsement, "Even the well can benefit from this information."
Join the conversation. Create a topic in our forum.
References:
[1] DeAngelis T, A bright future for PNI, APA Monitor on Psychology. June 2002, Vol 33, No. 6, p. 46. http://www.apa.org/monitor/jun02/brightfuture.aspx
[2] Voell J and Chatfield C. Cancer Report, Naples, FL: Change Your World, 2005