September 3, 2015 | Author: Susan Silberstein PhD
---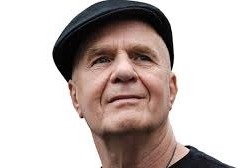 Self-help author and motivational speaker Dr. Wayne W. Dyer died last weekend at the age of 75. He had been dealing with leukemia for the last six years. A message from his family announced on Facebook: "Wayne has left his body, passing away through the night. He always said he couldn't wait for this next adventure to begin and had no fear of dying." Yes, life is a terminal disease and death is inevitable, but Wayne Dyer was so holistic that we have to wonder why he developed cancer and why he might have died from it.
Dr. Dyer was known for sharing his words of wisdom, meditations and healing techniques through the more than 40 self-help books he authored and the many lectures he gave. Teaching that positive, happy beliefs lead to a positive, happy life, Dyer's philosophy combined self-actualization with spirituality. He was listed in Mind Body Spirit as one of the top 10 most spiritually influential persons in the world, and he changed the lives of millions of readers and listeners – including me.
In 1976, Dyer's career took off when he published Your Erroneous Zones: Step-by-Step Advice for Escaping the Trap of Negative Thinking and Taking Control of Your Life. The book's instant fame brought him out the classroom and clinic and propelled him onto the speaker's circuit, earning him millions of dollars on its way to becoming one of the best-selling books of all time.
Dyer became a media sensation, touring the U.S. and appearing on virtually every TV talk show. Often promoted as "public television's favorite teacher of transformational wisdom," he appeared regularly on PBS for almost 40 years and helped raise more than $100 million for public broadcasting.
In 2009, Dyer was diagnosed with chronic lymphocytic leukemia, though he did not seem to be a likely candidate for cancer. He had exercised for at least two hours a day (including yoga, hiking, and swimming in the ocean), meditated daily, and watched his diet. So how is it that he got cancer?
And what about his treatment choices? According to conventional oncology, there is no cure for this type of cancer, and no treatment is suggested for early stage diagnosis other than "watchful waiting." Frankly, at BeatCancer.org we have helped patients not satisfied with "watch and wait" to reverse the same condition. Dyer treated his with positive thinking, daily exercise and "psychic surgery" performed by a Brazilian medium. He also spent time at The Chopra Center with his longtime friend, Dr. Deepak Chopra, and with a holistic oncologist there. It is unknown if he underwent drug therapy.
As with all cancers, there are many reasons one develops leukemia or then fails to reverse it. Poor dietary choices, viral infections, and toxic exposures play a big role; so do negative relationships. In Dyer's case, we don't know much about the former three, but he has shared quite a bit about the latter.
In an interview posted to the KPBS-TV, San Diego, website in 2012 after his diagnosis, Dyer said he'd begun looking at the illness as "the body's way of responding to… psychological traumas… from failed relationships in the past…."He believed that cancer, on some level, is actually the body's healing response — in his case, to his many difficult relationships that included abandonment by both his parents and three failed marriages.
Four years ago, after interviewing Dr. Dyer, Jackie Roberge posted a blog article (CancerShift.com, Sept. 14, 2011) on his personal thoughts about his cancer journey. She wrote:
"Dr. Dyer… has a very unique view of cancer, why he was diagnosed and how he has evolved on his healing journey. I want to thank him for being very candid and sharing his personal insights with me so we can all grow and learn as a result….
" Perhaps that is his greatest teaching of all.
Join the conversation. Create a topic in our forum.
References:
[1] http://www.nbcnews.com/news/us-news/self-help-pioneer-dr-wayne-dyer-dies-75-n418556?inf_contact_key=3c4daa3922eb796ca83530b13c364f78d08b4098ce66a705a9cd1e1b7ae6398e
[2] http://www.cnn.com/2015/08/30/us/wayne-dyer-death/index.html?eref=rss_health
[3] http://www.freep.com/story/entertainment/2015/08/30/detroit-born-dr-wayne-dyer-motivational-guru-dies/71437094/
[4] http://prudencesinclair.com/
[5] http://cancershift.com/cancer-shift-blog/2011/9/14/wayne-dyers-cancer-journey-from-denial-to-love.html