August 12, 2014 | Author: Susan Silberstein PhD
---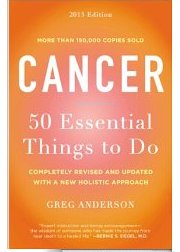 In 1984, Greg Anderson was diagnosed with stage IV squamous cell carcinoma of the lung with metastases to his ribs and lymph system. He was given only 30 days to live. Refusing to give up, Greg began interviewing survivors who had also been told they had "terminal cancer." He wanted to learn what they did to get well and stay well. What he learned not only saved his own life, but also the lives of countless others.
Based on decades of research and the experiences of more than 16,000 survivors, Cancer: 50 Essential Things to Do provides an inspiring, action-oriented roadmap for those who choose to adopt a stance of hope, take charge of their cancer, and create wellness. With penetrating insights that bring together more than two decades of scientifically supported research and experience, Anderson reveals a step-by-step holistic action plan that has been successfully employed by hundreds of thousands of cancer patients worldwide.
Revised and updated for the first time since 1999, this invaluable guide to cancer recovery is loaded with practical exercises and action steps. The easy plan Anderson outlines is designed to help cancer patients and their family members to understand the diagnosis, determine a treatment plan, and manage cancer therapy. But that's not all ….
Much more important than cancer treatment is cancer healing. The book also provides practical guidelines for meditation and imagery, nurturing the spirit, nutrition and lifestyle, complementary and alternative therapies, and dealing with environmental toxins. Perhaps the two most valuable lessons that Anderson shares are about appreciating the power of forgiveness and achieving an attitude of gratitude.
Anderson's simple message is one that we at BeatCancer.org have embraced for over three decades: You must not simply treat illness, you must also create wellness: physically, emotionally and spiritually. In fact, I will add, when you create wellness
emotionally and spiritually, very often physical wellness follows.