January 13, 2013 | Author: BeatCancer.Org
---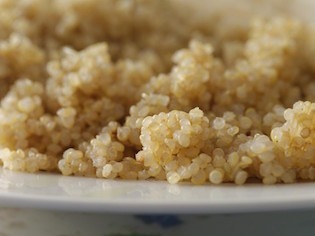 Ingredients:
2 T extra virgin olive oil
1 medium leek, thinly sliced crosswise
1 small zucchini, cubed
1 medium carrot, peeled and sliced into thin pennies
2 ribs celery, diced
½ small yellow pepper, diced
2 t curry powder
1 t ground cumin
1 C uncooked quinoa
1 C water
½ t sea salt
Dash black pepper
1 cinnamon stick
2/3 C cooked chickpeas
1 ½ C light coconut milk
¼ C raisins (optional)
Procedure:
In a deep stew pot add olive oil and leek and cook for 2 minutes over medium heat, stirring often.
Add carrots and cook 2 minutes more.
Stir in all of the other ingredients, cover, and simmer about 15 minutes, or until the quinoa soaks up all of the liquid.

Remove cinnamon stick and serve.
Yield: 4 servings
This is one of 127 simple, no-guilt, healthful, delicious recipes from Susan Silberstein's vegan and gluten-free recipe book Hungrier for Health.