May 23, 2013 | Author: BeatCancer.Org
---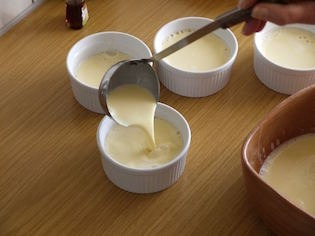 Ingredients:
2 bananas, peeled, sliced and frozen
½ C fresh vanilla-flavored coconut milk
2 T raw almond butter
2T Salba (chia seeds), finely ground
1 t pure maple syrup
½ t vanilla
¼ C hazelnuts
2 pecan halves
Procedure:
Place all ingredients except nuts into blender jar.
Puree until creamy.
Pour into two dessert bowls.
Grind hazelnuts finely in food processor.
Transfer into dessert bowls and incorporate gently. 6. Place pecan half atop each bowl and serve.
Yield: 2 servings
This is one of 127 simple, healthful, delicious Vegan and gluten-free recipes from Susan Silberstein's newest cookbook.
Hungrier for Health is a recipe book that builds upon the practical, balanced lessons in healthful eating and the four basic dietary principles outlined in its predecessor book, Hungry for Health. If you have not read Hungry for Health or its equivalent, we recommend you read that first. If you already have, you are sure to love this one! The sequel offers four more principles and 127 all-new, all-vegan, gluten-free recipes that remain faithful to the original guiding principles — healthful, simple, and tasty. These delicious plant-based recipes are not only appropriate for vegans and vegetarians; they can be enjoyed by meat-eaters as well and will greatly improve the quality of their diets. Like Hungry for Health, the sequel is packed with delicious no-guilt recipes covering the culinary gamut from Appetizers & Snacks, Soups & Broths, Salads & Dressings, Entrees & Sides, Sweets & Treats, and Juices & Smoothies, Hungrier for Health also incorporates informative sidebars of Tasty Tips, Helpful Hints, and Nutri-Notes and a user friendly recipe index.
 Join the conversation. Create a topic in our forum.