February 2, 2013 | Author: BeatCancer.Org
---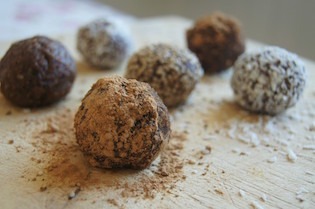 Ingredients:
1/4 C flaxseeds, ground
1/4 C unsweetened carob powder, sifted
1/3 C walnuts, finely chopped
1/3 C raw almond butter
1/3 C honey
1 tsp vanilla extract small bowl of unsweetened shredded coconut
Procedure:
Process all ingredients until mixture forms a dense ball.
Remove from processor and roll small portions between palms of hands to formone inch balls. Roll in coconut to coat.
Place on serving platter and refrigerate.
Yield: About 18 truffles
For more Hungry for Health recipes, click here