June 15, 2012 | Author: BeatCancer.Org
---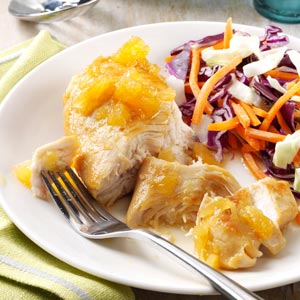 Ingredients:
8 boneless organic chicken breasts, skinned
1/3 C honey
4 C pineapple chunks
1/4 C lemon juice
1/4 tsp sea salt
1/4 tsp pepper
1/4 tsp oregano
1/4 tsp minced garlic
1 T extra virgin olive oil
Procedure:
Preheat oven to 400 degrees F.
Place chicken breasts in glass baking dish.
Place pineapple into food processor and process until crushed.
Mix pineapple with all remaining ingredients. Pour over chicken.
Bake for one hour, turning at least once.
Yield: 6-8 servings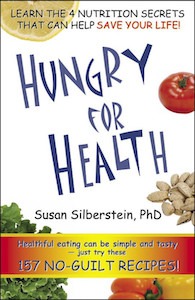 Hungry for Health is a practical and balanced lesson in healthful eating. In a pleasant and easy-to-understand manner, Silberstein outlines four basic dietary principles for maintaining proper weight as well as preventing disease and recurrence.
For those who aspire to eat well but are confused by conflicting dietary recommendations or overwhelmed by the complexities of food preparation, this recipe book is a godsend. Its guiding principles — healthful, simple, and tasty – make this a delightful, useful handbook for any novice.
Packed with 157 no-guilt recipes covering the culinary gamut from Appetizers & Snacks, Soups & Broths, Salads & Dressings, Entrees & Sides, Sweets & Treats, and Juices & Smoothies, the book also incorporates informative sidebars of Tasty Tips, Helpful Hints, and Nutri-Notes. Most valuable are the pithy, witty and wise quotations about nutrition appearing on nearly every page.
Join the conversation. Create a topic in our forum.