January 12, 2013 | Author: BeatCancer.Org
---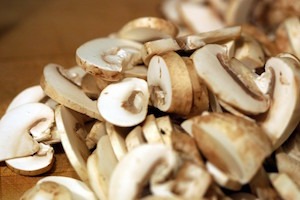 Ingredients:
2 T extra virgin olive oil
2 leeks, thinly sliced
8 oz assorted wild mushrooms(oyster, shitake, portobello,or chanterelle), sliced
1/2 C cooked wild rice
5 C vegetable stock
1 T dried chopped basil
1 C canned tomatoes
1 tsp minced garlic clove
1 T dried chopped parsley
1 tsp sea salt
1/4 tsp pepper
Procedure:
In a large soup pot, saute leeks in olive oil until soft.
Add mushrooms and saute for about 3 minutes.
Add stock, tomatoes, wild rice and garlic.
Bring to a boil.
Simmer 30 minutes, covered.
Add parsley, basil, salt and pepper.
Yield: 7-8 servings
This is one of 157 simple, no-guilt, healthful, delicious recipes from Susan Silberstein's popular book Hungry for Health.