November 30, 2017 | Author: BeatCancer.Org
---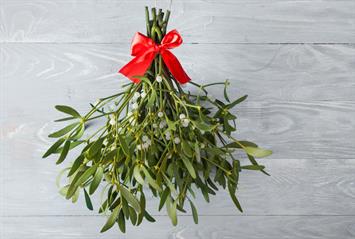 We all know the traditional hanging of the mistletoe to kiss a loved one under on Christmas Day, but mistletoe is more than just a holiday tradition. For 100 years, the plant has been used for treating cancer, as well as for minimizing the side effects of chemotherapy.There are various clinical trials to test the plant's ability to beat cancer, as well as to prevent its recurrence. Keep reading to learn more about mistletoe and how the plant is making breakthroughs for cancer sufferers.
What Is Mistletoe?
Mistletoe is a parasitic plant that is often found growing on broadleaf trees, such as oak and apple trees. Despite the nuisance it can be in nature, the plant has proven to be extremely useful in treating cancer. According to Believe Big, only the European species of the mistletoe plant is used to treat cancer. It's administered via an IV or through an injection at a rate determined by the physician or oncologist.
The plant has been linked to diminished pain caused by tumors, as well as a reduced risk of tumor recurrence. Mistletoe has a variety of other uses, including:
Treating malignant and non-malignant tumors
Stimulating bone marrow activity and the immune system
Reducing the side effects of chemotherapy and radiation
While traditional methods of cancer treatment have proven to be useful, these treatments can be expensive and cause a host of side effects. Treating cancer with mistletoe costs a fraction of radiation/chemotherapy treatment and has very minimal side effects. Some patients experienced headaches or fevers, but these are rare.
Living with Cancer
Rarely are two cancer experiences the same. Everyone's body reacts differently to certain treatments, but if you're looking for an inexpensive and natural treatment option, consider mistletoe.
If you or someone you know has been diagnosed with cancer, considering enrolling in cancer counseling. Having a strong support system during these tough times can make each day a little brighter. Cancer counseling focuses on reducing suffering, minimizing the side effects of treatment, boosting the immune system, and improving quality of life.
Beating Cancer Is Possible
As cancer treatments continue to advance, the idea of finding a cure seems more in reach. One of the keys to beating cancer is to practice healthy living.There are many methods that have proven to be useful in cancer prevention, including:
Not smoking
Eating a healthy diet
Staying physically active
Obesity, smoking, and poor diet have all been linked to a variety of cancer. While we can't change our genetic makeup, we can dictate how we lead our lives. Making healthy choices as often as possible will reduce your risk of cancer.
To learn more about cancer prevention and treatment, we welcome you to reach out to us at the Center for Advancement in Cancer Education. We want to educate and embolden cancer patients, caregivers, and anyone who has been impacted by the disease. We offer tips for dealing with the side effects of radiation, cancer coaching, and much more!
We welcome everyone to support our cause by becoming an ambassador. Learn more at https://beatcancer.org/get-involved/. Together, we can beat cancer!