May 16, 2016 | Author: Susan Silberstein PhD
---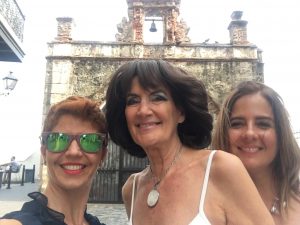 Ten days ago, I had the pleasure of lecturing to about 350 people at the Centro para Puerto Rico in San Juan, as a guest of Juice Plus+ National Marketing Directors Teresa Toro and Mari Loli Orcero, RD. I gave one talk in English, "Fight Cancer with Your Fork" (with slides translated into Spanish) and one talk in Spanish, "Cuatro Secretos de Nutricion que Pueden Salvar tu Vida" ("Four Nutrition Secrets that Could Help Save Your Life").  Challenging – but important – here's why.
The truth is my Spanish is kind of rusty. My training amounts to two years in high school, two years in college, two weeks in Spain and two weeks in Mexico – and all of that was decades ago!  Since then, I managed to forget a lot of vocabulary, so I had to rely heavily on my trusty pocket dictionary.  That and the fact that Puerto Ricans may speak more rapidly than any other group on the face of the planet assured that I caught only about 50% of what was being said to me!
But put me in front of a script which I myself have written, and I understand every word of it and can deliver it smoothly with a pretty good accent. The audience in that ultra-modern auditorium even laughed at my jokes!
Now I know that almost all Puerto Ricans understand English, but there is something about receiving lots of technical information in one's native language that makes for less mental exhaustion and for easier and more complete assimilation.  The attendees (who included several physicians, pharmacists, and representatives of the American Cancer Society) seemed genuinely appreciative of the efforts I made.  Some indicated their interest in becoming ambassadors for BeatCancer.org in Puerto Rico and in taking our online holistic cancer certification training. This is extremely important given that Puerto Rican health statistics – and cancer rates in particular — are rather disastrous!
Obesity has reached epidemic proportions in Puerto Rico, affecting between 62% and 77% of adults aged 25 to 64. Obesity, of course, is a risk factor for all killer diseases, including cancer, which is the second cause of death in Puerto Rico. In addition, an estimated 5.1 million Hispanics of Puerto Rican origin reside in the continental 50 US —  a substantially greater number than the population of Puerto Rico itself. According to a 1980-1990 study, Puerto Ricans living in New York City have a higher risk of cancer than those living in their native land, and according to a 2009 University of Miami School of Medicine study, first-generation Hispanic immigrants to the US from Puerto Rico have a 40 percent higher risk of getting cancer than their counterparts on the island.
So my short trip to Puerto Rico was significant – and successful. I got kudos for my talks, I sold out all the books I had brought, and I actually had fun! Usually, no matter where I travel to lecture, I see only the inside of the airport, hotel and lecture hall.  This time, I also got to tour Old San Juan, taste an authentic pina colada (minus the rum), shoot some picturesque photos, and take home a giant papaya (to which the local US Department of Agriculture officials gave their blessing). I also got to watch one of my favorite operas, Puccini's Madama Butterfly, sung in Italian with Spanish subtitles, by the National Opera Company of Puerto Rico. (In my other life I sang opera.)
Mostly, though, I do hope that this trip will help grow BeatCancer.org's Hispanic community outreach efforts which began in 2009. That year, we launched our Hispanic Nutrition and Prevention Education Project by presenting our first Spanish-language program in Puerto Rico to over 200 attendees and creating our first book in Spanish, both entitled Estas Cavando tu Propia Tumba Con el Tenedor? Since then, we have also delivered Spanish language lectures in Philadelphia, PA, Pueblo, CO and Miami, FL.  We have certified three native Spanish-speaking holistic cancer coaches – two in Spain and one bilingual coach in Pompano Beach, FL, who will help us reach the Latino community there.  We hope that many more will follow — let us know if you are interested in helping.
Join the conversation. Create a topic in our forum.
References:
[1] Behavioral Risk Factor Surveillance System, 2013
[2] Puerto Rico Health Assessment, Departamento de Salud, Gobierno de Puerto Rico, Sept. 28, 2012
[3] Pew Research Center Analysis of the Census Bureau's American Community Survey, 2013
[4] Pinhero P, Sherman R et al. Cancer incidence in first generation U.S. Hispanics: Cubans, Mexicans, Puerto Ricans, and new Latinos, Cancer Epidemiology, Biomarkers and Prevention 18,21162, Aug. 1, 2009, American Association for Cancer Research