January 19, 2017 | Author: Susan Silberstein, PhD
---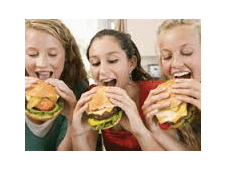 American teenagers receive nearly 17% of their calories from fast food, according to the Centers for Disease Control and Prevention (CDC). In 2012, over one-third of all children and adolescents up to age 19 consumed fast food on a given day. Less than 25% of adolescents eat enough fruits and vegetables daily. "Enough" is probably nowhere near enough. Not surprisingly, since 1980, the percentage of obese adolescents aged 12 to 19 has tripled to 17%.
Childhood obesity has both immediate and long-term serious health impacts, including diabetes, cardiovascular disease and cancer.The National Center for Chronic Disease Prevention and Health Promotion has stated that obesity in childhood more than doubles the risk of obesity in adulthood, now at 64%. The American Institute for Cancer Research has concluded that obesity greatly increases the likelihood of developing many different types of cancer.
In a jointly issued report by the American Cancer Society, the American Diabetes Association, and the American Heart Association, the committee wrote: "Unless there are substantial reductions in the underlying risk factors …of these diseases, the human and economic costs from cardiovascular disease, cancer, and diabetes can be expected to rise. This demographic effect will be exacerbated by adverse trends in risk factors, such as the large and continuing increase in obesity rates among children and adults."
Collectively, these three killer diseases account for approximately two-thirds of all deaths in the U.S. and about $700 billion in direct and indirect economic costs each year. According to the World Health Organization, 75% of all disease is diet related. A recent CDC study shows that close to half of the US adult population are now expected to develop diabetes during their lifetime; more than half of males and nearly 40% of females will develop cardiovascular disease; and shockingly, millennials have nearly a one in two lifetime risk of developing cancer.
BeatCancer.org has been passionate about making a difference in these statistics through its Youth Nutrition and Prevention Education Project, designed to help create an early appreciation for the powerful role of diet in disease protection. With the support of grants from the Schrenk Family Foundation, The Scholler Foundation, the Berkowitz Family Foundation, the Schmoldt Foundation for Education, the Lower Merion School District, and the Delaware County Medical Society Public Health Fund, we have been working to provide free community outreach programs teaching the basics of healthy eating to help young students prevent obesity and cancer by building lifetime healthful habits. So far, we have trained more than 1300 high school and college students in the Philadelphia area.
In 2016, as in past years, the feedback we received was extremely positive. Nearly every venue at which we delivered programs asked us to return in future years. Of those participants who completed an evaluation form, we noted the following:
95% stated they learned a lot.
92% stated they planned to use the information in their lives.
94% stated they would share the information with their family or friends.
87% said they would try the healthy recipes we distributed.
92% rated the trainer as excellent or good.
91% stated they would recommend the program to others.
90 % stated they planned to make healthy dietary changes.
Specific changes which participants committed to making included eating more fruits and vegetables, drinking more water, eating less junk food, eating more organic food when possible, and microwaving less.
Of the participants who completed the pre-test and post-test, 90%showed a significant improvement in knowledge and awareness of cancer, nutrition and obesity facts. Individual improvement on the post-test questionnaires averaged 63%.
In the coming year, we look forward to continuing to expand our youth education project, reaching more students in more schools in the five-country Philadelphia area. Long term, we would like to follow students and families for six months to one year after training; we would like to deliver programs in many other geographic areas; and we would like to reach more minorities, especially African-Americans and Latinos. Eventually our goal is to transition to cyber trainings and mobile apps.
We are seeking project funders and volunteers from the five-county Philadelphia area. If you are connected to an area high school or college and would like to host a guest classroom lecture or if you are a graduate in the fields of health, nutrition or education and would like to help in teaching such programs, please contact dmelamed@beatcancer.org.
Join the conversation. Create a topic in our forum.
References:
[1] Centers for Disease Control. Make a Difference at Your School (2013). Chronic Disease 31. http://digitalcommons.hsc.unt.edu/disease/31
[2] Centers for Disease Control and Prevention (2015). Caloric intake from fast food among children and adolescents in the United States, 2011–2012. https://www.cdc.gov/nchs/data/databriefs/db213.htm
[3] Eyre H, Kahn R, and Robertson RM. Preventing cancer, cardiovascular disease, and diabetes: A common agenda for the American Cancer Society, the American Diabetes Association, and the American Heart Association. Diabetes Care 2004 Jul; 27(7): 1812-1824. http://care.diabetesjournals.org/content/27/7/1812
[4] Gregg EW, Zhuo X, Cheng YJ, et al. Trends in lifetime risk and years of life lost due to diabetes in the USA, 1985–2011: A modelling study. The Lancet Diabetes & Endocrinology 12 August 2014.
[5] http://jamanetwork.com/journals/jama/fullarticle/197439
[6] http://www.cancer.org/cancer/cancer-basics/lifetime-probability-of-developing-or-dying-from-cancer.html
[7] http://www.nbcnews.com/health/health-news/america-s-obesity-epidemic-hits-new-high-n587251
[8] http://www.thelancet.com/journals/landia/article/PIIS2213-8587(14)70161-5/abstract?cc=y
[9] Lloyd-Jones DM, Leip FP, et al. Prediction of lifetime risk for cardiovascular disease by risk factor burden at 50 years of age. Circulation, Feb.
13, 2006;113:791-798 http://circ.ahajournals.org/content/113/6/791