March 31, 2016 | Author: Susan Silberstein PhD
---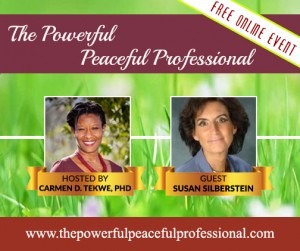 Have you ever…
Hoped to create vibrant health but just couldn't turn the corner?
Felt stressed and burned out and just wanted to break free from it all?
Wanted to find a way to enjoy your life and family without sacrificing your work?
Desired to build stronger personal relationships but didn't know where to start?
Been stuck in a dead-end job or felt unsatisfied with your current situation in life?
If you want your life back, then I have great news for you!
I'm excited to share with you a special project that I'm participating in: It's The Powerful Peaceful Professional tele-seminar series hosted by wellness expert Dr. Carmen Tekwe. My interview on Stress, Health, Dis-Ease and Cancer is a part of this FREE online summit starting April 4.

Peace. Empowerment. Health. Happiness. Love. Success. Relationships. Balance. These are goals we all crave — and every one of them is possible! Learn how to integrate these into your life during the FREE Powerful Peaceful Professional Summit!
During this virtual event, I will be featured with a panel of 25 experts who will share their best insights and tips for living a lifestyle of empowerment. You will learn:
How to empower yourself to achieve your health and wellness goals
How to make a decision to choose YOU, simply because you are worth it
How to achieve immense inner peace
How to manifest your financial goals
How to simplify the million things on your to do list
How to shift from overwhelmed to fully empowered
How to shift from a place of never having enough time to having all the time in the world to do the things you love
and so much more…
In this online guide for the overwhelmed, overworked, and overcommitted, learn how to put the pieces together with simple tips and practices you can easily incorporate in your life. Hear empowering advice from some of the top thought leaders in health, business, family, love, and finance, and get inspirational lessons that will provide you with the skills you need to create the life you desire.
If you're feeling unsatisfied, stressed, or stuck in your relationships or work, you need a game changer. You need an opportunity to break out of the cycle that is making you feel like you're not living up to your full potential – and perhaps ruining your health!

Having worked with over 25,000 cancer patients over the last three and one-half decades, I know how important it is to fully claim your inner power and to start taking courageous steps towards your dreams. That's the only way that we can TRULY manifest health. That's why I'm proud to be one of over 24 experts taking part in this upcoming tele-summit.
For years, BeatCancer.org counselors and I have tried to help clients find a healthy balance between relationships, career and life stressors, so they can free up their immune systems to work for them. This tele-seminar series will definitely help provide a comprehensive answer. During the summit, you'll learn essential skills that you need to help you reclaim your health, find the perfect work-life balance you crave, pursue meaningful relationships with the right people, and manage day-to-day stressors.
I hope you'll join me for this FREE online event, and I look forward to sharing my interview – as well as 24 others — with you! Mark your calendar for April 4 and REGISTER NOW. Then starting on April 4, you are going to meet amazing experts who will show you some simple steps you can take to empower yourself to start creating the life you've always wanted for yourself. Each day one 30 minute interview will be sent directly to your inbox – check it daily for life-changing tips. Listen, Learn and Enjoy!
Control your life. Don't let life control you. Seize your power today by signing up for this free transformational tele-summit — The Powerful Peaceful Professional. Reserve your place now by clicking on the link below!
http://thepowerfulpeacefulprofessional.com/susan-silberstein
Join the conversation. Create a topic in our forum.