November 10, 2014 | Author: Susan Silberstein PhD
---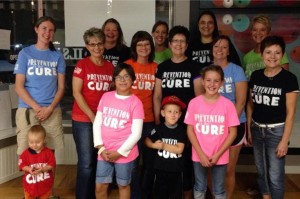 Some wonderful supporters have come our way! Jake Derr and her Juice Plus+ Team in Nebraska have come up with a creative fundraiser for BeatCancer.org – and you can support it with one click! They have designed special BeatCancer.org T-Shirts. T-shirts always make great gifts, and all the profits go to our charity. But these shirts are a lot more than just a fundraiser.
The shirts carry an empowering message, Prevention is the Cure.  We are tired of just "raising awareness" — we want to raise knowledge. We are tired of "early detection" — we want early prevention. We are tired of campaigns to "support cancer research" — we want to support people.
While other cancer organizations raise money for research, BeatCancer.org raises money for education. Billions of dollars have already been raised for cancer research. Much of that research has already been published in hundreds of biomedical journals worldwide. A huge number of studies have concluded that diet and lifestyle choices can make all the difference in risk for cancer, its recurrence, or treatment failure. BeatCancer.org takes what has already been published and teaches people how to apply it in their daily lives.
Supporting cancer research sounds sexy. It is also big business. As writer Steven Brill of Reuters pointed out in September of this year, the Stand Up to Cancer telethon, established in 2008 by film and media leaders as a new model of cancer research, has already received pledges of more than $261 million. The website of the Susan G. Komen Foundation's Race for the Cure, another high profile fundraiser, says it spent $58 million in fiscal year 2012 on grants for breast cancer research. The National Cancer Institute website reports that government cancer research funding averages $4.9 billion per year. Philanthropists give hundreds of millions of dollars to support — and even build new edifices for —hospital cancer research.
But Brill asks important questions. How useful are all these billions likely to be? Does it raise the odds of progress? How good is the National Cancer Institute at pulling the plug on research that has become a dry hole? Where does Congress — which funds the institute — fit into the picture? And where do the drug companies, who claim to spend their own billions on cancer research, fit in? Does anyone really know how much money is being spent on cancer research, where it is going, and how well it is being spent?
With 1.6 million cancer diagnoses and 600,000 cancer deaths every year in the United States, it seems to me as if all this money is not doing enough to change the real-time bottom line for people. And so I believe we don't need to raise more money for some elusive search for the cure, because prevention is the cure!
We hope you will support us by ordering your Prevention is the Cure T-shirts now. In fact, if you don't place your order by November 15, you will miss your chance for this year.  Why wait? Here's an opportunity to help BeatCancer.org and check a lot of names off your gift list at the same time!
The attractive moisture-wicking and anti-microbial knit jersey shirts come in all kinds of colors and sizes (men's, women's, youth and XL), and there is even a long sleeved option. The cost per shirt is $22 ($2 extra for long sleeves). Priority shipping is only $6 for up to four shirts.
Your purchase will help us to continue to touch countless lives with our life-saving message. Click here to order. Remember, the DEADLINE to order is NOVEMBER 15, 2014. Please share the link on Facebook so you can help BeatCancer.org help more people prevent and beat cancer in the coming year! Thanks for your support!
Join the conversation. Create a topic in our forum.
References:
[1] http://blogs.reuters.com/stories-id-like-to-see/2014/09/09/the-money-spent-in-fighting-cancer-and-alibabas-risk-factor/
[2] http://www.cancer.gov/cancertopics/factsheet/NCI/research-funding