September 14, 2014 | Author: Susan Silberstein PhD
---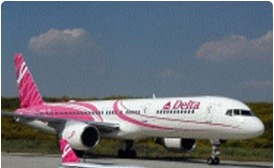 On October 1, 2014, I flew home from a lecture tour on a Delta jetliner out of Atlanta.  The day before, on September 30, Delta's signature Pink Plane flew from Atlanta to New York for its annual "Breast Cancer One" charter flight. The event honors breast cancer survivors, kicks off Breast Cancer Awareness Month, and, this year, celebrates its 10th year of partnership with the Breast Cancer Research Foundation (BCRF).  I don't have any issues with the excellent research conducted by BCRF-funded doctors and scientists. That in itself isn't the problem.

The 767 jetliner is dedicated to the memory of Evelyn Lauder, founder of the BCRF.  A breast cancer activist and originator of the famous pink ribbon, Lauder was the Senior Corporate Vice President of the Estée Lauder Companies and a board member of Memorial Sloan-Kettering Cancer Center,  where she raised millions of dollars to establish the Evelyn H. Lauder Breast Center.  Laudable Lauder.  So what's my issue?
It's the lemonade.  Throughout the month of October, Delta employees support the BCRF by selling Minute Maid® Pink Lemonade. I find the slogan printed on their beverage napkins, "Taking flight for the fight against breast cancer one Minute Maid®pink lemonade at a time" rather ironic. Besides water, the number one ingredient in a can of the lemonade is high fructose corn syrup – not to mention the red dye #40, modified cornstarch (none of the corn products are known to be GMO-free), and some other additives I'd rather avoid like glycerol ester of rosin, sodium benzoate, potassium sorbate and calcium disodium EDTA.
Let's talk about the red dye. Made from the same petroleum that fuels our vehicles, Red 40 has potential for serious side effects, according to the Center for Science in the Public Interest. It may cause symptoms of hypersensitivity and hyperactivity, especially in children, and should be banned because it is tainted with contaminants that may contribute to cancer in humans.  In some studies, Red 40 damaged the DNA of mice.
More dangerous in terms of breast cancer, however, is the sugar content. One 12-ounce can of the pink lemonade contains 40 grams of sugar, and high sugar is a major risk factor for the development of breast cancer.  In fact, in 9 of 12 studies examining the relationship between blood sugar levels and risk for breast cancer, an elevated incidence of breast cancer was found in the highest sugar group.  For example, in a study of more than 10,000 women from Italy researchers found that high fasting glucose levels were associated with increased risk for breast cancer in both pre-and post-menopausal women. Fasting glucose above 84 mg/dL resulted in over a 150% increase in disease incidence compared to those with lower levels.
I've written before on the reasons that sugar contributes to cancer. One explanation is that high sugar intake increases insulin release, and insulin is a strong promoter of cell growth.  Since there are insulin receptors on the surface of breast cells, insulin actually creates the estrogen effect. According to the Nutrition Society of Australia, high levels of insulin and related growth factors may actually be causative of breast cancer.
So while we are creating awareness, let's also create empowerment. The pinking of America during the month of October could and should do a lot more than just promote "Breast Cancer Awareness".  It should specifically teach women the lifestyle choices they need to make to prevent the disease – not just in October, but all year round.
Join the conversation. Create a topic in our forum.
References:
[1] http://www.foodsafetynews.com/2010/07/popular-food-dyes-linked-to-cancer-adhd-and-allergies/#.VDvxM8JMvcs
[2] Kaaks R, Energy balance and cancer: the role of insulin and insulin-like growth factor-I. Proc Nutr Soc 2001 Feb;60(1):91-106
[3] Falloon W, Huber L, and Schmid K. Elevated Glucose Increases Incidence of Breast Cancer. Life Extension. Feb. 2013
[4] Muti P, Quattrin T, Grant BJB, et al. Fasting glucose is a risk factor for breast cancer: A Prospective study. Cancer Epidemiology Biomarkers Prev. 2002;11(11):1361-8.