September 14, 2016 | Author: Sarah Wallace
---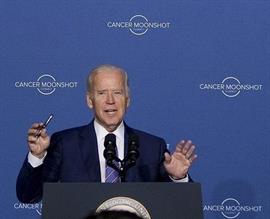 Cancer Moonshot 2020
Before doing what was thought to be impossible, Neil Armstrong said, "I think we're going to the moon because it's in the nature of the human being to face challenges. It's by the nature of his deep inner soul … we're required to do these things just as salmon swim upstream." This attitude applies not only to space exploration, but to many other human efforts – including cancer research.
The Cancer Moonshot 2020 initiative is a huge step toward changing the way we have viewed cancer over the past few decades. The word "cancer" stirs up other words and thoughts, and typically not good ones: sickness, suffering, terminal illness, death, loss. However, the Cancer Moonshot aims to spread hope and change the word associations we have with cancer to words like detection, research, advancem ent, strength, and even life.
What is the Cancer Moonshot?
Headed by Joe Biden, who lost his son Beau to brain cancer in 2015, the Cancer Moonshot is a comprehensive and collaborative effort that seeks to rapidly accelerate cancer research over the next four years.
One of the first steps in launching the moonshot was to secure funding. This came in February, when the White House announced a $195 million investment in the National Institutes of Health (NIH) for Fiscal Year 2016. In total, the administration has budgeted nearly $1 billion for the Cancer Moonshot Initiative. This type of funding is what's needed to progress research at the rate to which the initiative intends.
However, more than money, we need collaboration. This is being accomplished in a number of ways.
Sharing Data
Data is another huge piece of the puzzle. Recently, it was announced that the National Cancer Institute is working on what they call the Genomic Data Commons (GDC). This searchable database will allow doctors to access extremely recent information on treatments. The ability to do this will help with more rapid analysis of the information now available. Doing this the right way could lead to huge clinical advancements.
For this to work, there will need to be sound and significant data. Daren Glenister, Field Chief Technology Officer for Intralinks (a provider of content management and collaboration software), stated, "Big data and learning algorithms will enable researchers to identify patterns and anomalies that, for instance, may help to identify patients who can benefit from standard treatments, or whose tumors require a different approach."
Working with Others
Most importantly, we need the collaboration between people to make this moonshot take off. The foundational group to the initiative is the task force . This consists of heads of executive brand departments, as well as different agencies and offices.
The following are all a part of the Cancer Moonshot task force:
Department of Commerce
Department of Defense
Department of Energy
Department of Health and Human Services
Department of Veterans Affairs
Office of Management and Budget
Office of Science and Technology Policy
Domestic Policy Council
National Economic Council
Food and Drug Administration
National Cancer Institute
National Institutes of Health
National Science Foundation
Other organizations were also encouraged to participate in the Cancer Moonshot Summit at the end of June. A National Summit was held, hosted by Vice President Joe Biden, and other local Summit's were held across the country. This was a great way for others to get involved. The White House has also called on the rest of the population to submit any ideas! Whether you're a patient, survivor, caregiver, doctor, nurse, researcher–or really, anybody with an idea. The White House even set up a webpage where individuals can submit their ideas.
Hope for Rare Cancers
How will things change with the Cancer Moonshot? How will the advancements in research help to make a difference in the lives of those battling cancer?
For starters, the use and analysis of shared data will help lead to breakthroughs in terms of early detection, and also treatment for cancer patients. Clinical trials will play a large role. With better data, improvements to emerging treatments like immunotherapy and larger scale clinical trials will hopefully lead to a better life for patients who are battling rare cancers, that might otherwise be near impossible to treat.
For example, rare cancers like mesothelioma (which is caused by exposure asbestos) typically come with a very grim prognosis. Historically, those diagnosed are given a prognosis of one year. However, with the ability to detect cancers like this earlier, and improved treatment options such as immunotherapy, patients will see a much longer life expectancy.
By 2020…
This initiative is meant to inspire hope to those who might not feel it throughout their battle with cancer. It is meant to take the resources that we have and use them smarter and more efficiently. The Cancer Moonshot will hopefully change the way we see and deal with cancer by the year 2020. It will pave the way to better treatments, and hopefully one day is will not seem impossible to find a cure for cancer.
Each new development will help us get there as a nation. As Neil Armstrong once said, "That's one small step for man, one giant leap for mankind."
Join the conversation. Create a topic in our forum.
Additional Sources:
http://www.cancermoonshot2020.org/aboutus/
http://cloudtweaks.com/2016/06/curingcancerbigdata/