October 7, 2016 | Author: Karin Marcus, MA
---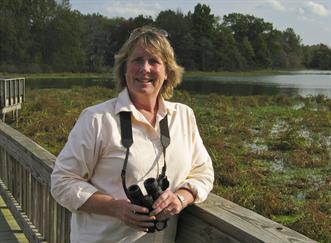 Nature has always been a source of comfort and peace. Even as a little girl, whenever I was upset, I'd run into the welcoming woods behind our home, climb my favorite tree, and rest in the sheltering arms of its branches. When my parents died, long walks on the beach soothed my soul. So I knew where to turn when I was first received that ominous diagnosis of cancer. Instinctively, I knew that I had to retreat into nature.
While waiting to hear the results of numerous tests, I escaped to Cape May, NJ. One of my favorite pastimes is going on guided bird walks. This was the perfect distraction to prevent my mind from going wild with possible scenarios of "what if…" Out in nature, with my senses highly attuned to the sound of the wind, the swaying of the trees, and the warmth of the sun, I became delightfully engrossed in the present moment. With chaos swirling, birding calmed me, silencing the endless negative chatter in my mind.
On this particular day, a clay-colored sparrow was sited at Cape May Point State Park. It is an unusual migratory visitor to these parts, and it quickly attracted a cluster of about twenty bird enthusiasts laden with cameras, binoculars and scopes. Unbothered by the crowds, this simple bird was the talk of the town, spreading joy to all who stopped to look. For me, the clay-colored sparrow was the cherry on top of a perfect day that had been filled with delight and was devoid of apprehension. I felt reconnected with my core and, for the moment, at peace.
Closely observing nature helps me appreciate the simple things right in front of me. To drive the point home, a few days later I received an email from someone who had recently battled cancer. His advice, "Look for the unexpected graces that appear every day." Like the clay-colored sparrow, such gifts might be easily missed unless I happen to be on the lookout. This was an important lesson that I held onto throughout the following months in order to remain connected with what brought me joy, never letting the cancer blind me to the grace that perpetually surrounded me.
I kept a journal of my healing excursions into nature and it evolved into the book, Birding Through Cancer: A Seasons of Change Journey. "The Clay-Colored Sparrow" is one of the stories I share. My hope is that the book can be of service to anyone trying to navigate their own experience with cancer or wishing to better support someone else's journey.
Nature also helped me weather this storm by following the wise lessons displayed in the cycle of its seasons. The Seasons of Change model for adapting to life's inevitable ups and downs is the foundation of my work as a Certified Life Coach, and my journey with cancer was my opportunity to "walk the talk." The initial cancer diagnosis marked the beginning of my inner fall season. I knew my life was going to be changed dramatically and I needed to gather my support around me. The course of my treatment was my winter. I needed to turn inward, reserving my strength for the task at hand. Then gradually in spring, I began to re-emerge with a new sense of identity and purpose. That's when I decided to share the lessons I had learned in a book. Now finally summer is here once again! I'm celebrating the book's publication and savoring responses from people who have been touched.
Karin Marcus, MA, PCC, BCC
Professional Certified Coach / Master Retreat Leader / Seasons of Change and Purpose Clarity Master Trainer
Author of Birding Through Cancer: A Seasons of Change Journey www.SteppingOutCoaching.com
Karin@SeasonsofChange.com
Join the conversation. Create a topic in our forum.