October 23, 2017 | Author: Kathy Mydlach-Bero
---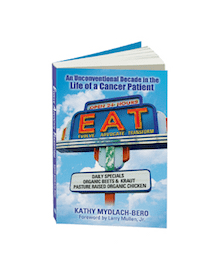 The Making of An Integrative Physician
After battling two rare and aggressive cancers,my body was dying, and even though I was in remission, the medications kept on coming. With each new drug came the challenge of new side-effects, which required additional drugs to manage the side-effects of the last group of medications and so on. The toxic barrage left me debilitated and headed down the road so many had stumbled down before me. I had developed heart, kidney and liver disease. My lungs held less oxygen, my thyroid and intestines were irreparably damaged, and my eyesight and hearing were compromised. I was a wreck in the aftermath of cancer treatment, but had no intention of becoming one of the approximately 15% of patients who die from the impact of their treatment, nor was I going to adopt a "new normal" that included a lower quality of life.
Even though I had been practicing meditation, reiki, visualizations and using food as medicine, it wasn't quite enough to combat the pharmacy of medications covering my bedside table. I was at a do or die moment. Reclaiming my mind, body, and spirit while killing rogue cancer cells became my new mission for which I enlisted the help of Integrative Medicine Physician David Rakel. It was his task to teach me how to catapult my recovery in ways that proved perplexing to my conventional team of doctors, while validating my drive to pursue a less toxic approach to fighting a cancer recurrence while further developing my self-healing abilities.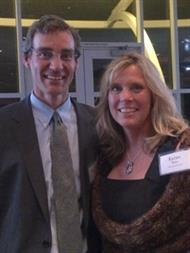 When he was my doctor, Rakel was the founder and director of the University of Wisconsin Integrative Medicine Program and an associate professor in the department on family medicine at the UW School of Medicine and Public Health. Today, he is professor and chair of the Department of Family & Community Medicine at the University of New Mexico School of Medicine in Albuquerque. His latest move in 2016, marked the next leg of a more than 25-year journey, which began with his foray into private practice as a rural doctor in the shadow of the Teton Mountains.
"My wife and I chose Driggs, Idaho because it was beautiful and had an intimate 14-bed hospital. I learned more in those years of rural medicine than any text book could've taught me, and because I was a womb to tomb physician, I was able to learn from anyone in the community."
It was in Driggs, population 1,300, that Rakel discovered the healing power of "knowing" his patients, "I started to understand that I couldn't help my patients heal by just treating their symptoms because that wasn't where the problem had started. What I needed was an active insight into their story to help them start the real healing."
In that little mountain town, it wasn't hard to "know" his patients because Rakel would see them pretty much everywhere he went. Through interactions at church or maybe in the grocery store, he developed insights into why a patient might be afflicted with a specific symptom thus making him a more effective physician. However, there was one patient that perplexed Rakel. It was his terminally ill neighbor who had developed incessant hiccups after a stroke, creating incredible discomfort and sleepless nights. Unable to relieve his discomfort, Rakel supported the family's decision to try the community acupuncturist who quickly calmed the diaphragm contractions, ending the hiccups, allowing the man to finally have peace in dying.
It was at that moment Rakel's interest in the mind, body, spirit approach to health care was lit, and the young physician spread his wings. He packed up his family and began a two-year residential fellowship at the University of Arizona Tucson-Center for Integrative Medicine founded in 1994 by Dr. Andrew Weil.
"Many of my peers warned me that I was committing career suicide by going down the road of integrative medicine, but after reading several books on natural healing, I knew it was my next step," Rakel reflected.
As part of the fellowship, Rakel conducted consultations with patients, but fed his family moonlighting as an urgent care doctor in one of the area hospitals. It was there that he began to use the new techniques he had acquired, including one taught to him by an osteopathic doctor. Rakel had an elderly woman arrive in the emergency room with severe muscle spasms. The woman was accompanied by her husband who requested muscle relaxants to relieve her suffering. Instead, Rakel suggested a technique which employed a relaxation manipulation of the muscle that was paired with the muscle in spasm. The husband, being protective of his wife, was fearful that the good doctor would hurt her.
"The fear of something new can blunt a complete healing, and his wife seemed to intuitively know that. She asked her husband to let me do my work, and I was able to stop the spasm without medication," said Rakel.
Surrounded by dessert beauty, Rakel learned from top practitioners in a variety of complementary medicine disciplines while being challenged to become his own first patient. Rakel embraced the process of self-healing, which allowed him to more completely give health and healing to others. Newly focused on the biosocial, psychosocial and spiritual aspects of a person's being, Rakel discovered that a myopic review of just the physical patient wasn't enough. Since medical errors were the 3rd leading cause of death in American hospitals, Rakel urged the use of a Salutogenics model of healthcare, creating a new expertise in academic medicine on how complex systems can heal. That model maximized healing by bringing in the nonphysical pathogenesis of each patient to aid them in previously immeasurable ways. Rather than being limited to one specific body part, the integrative medicine doctor worked to heal the whole patient through a "medical home," which could include a combination of treatments directed by the context and needs of the unique patient to activate their self-healing abilities and achieve good health.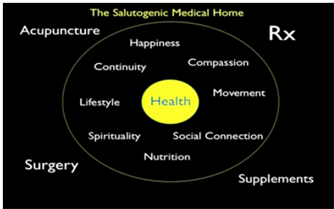 Rakel explained, "Medical homes are composed of teams that generally consist of doctors and nurses, but also nutritionists, exercise physiologists, health psychologists, social workers, and even spiritual guides all working to help individuals stay healthy on their own terms. While a physician may lead the medical team, the workload is shared among various professionals, and the patient ends up with more time devoted to health education, disease prevention, and chronic disease control. And using the Medicare and Medicaid practice of value based outcomes more broadly, will encourage health practitioners to look for ways to provide better care at lower costs."
But Rakel doesn't just talk about change, he's making it. Through a grant with the National Institutes of Health Center for Complementary and Integrative Health, Rakel helped rewrite medical school curricula to teach future physicians not just how to incorporate whole health healing into their work but why it's critical for the complete healing of their patients. Some of the changes to the curriculum included bringing spirituality into psychological studies, bodywork and massage into anatomy classes and nutrition into biochemistry work.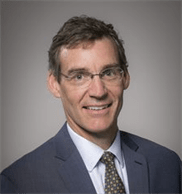 It's Rakel's passion to broaden the scope of conventional medicine, "To do healthcare delivery, you really need to do more than just give pills. We need to understand the story of the individual who's suffering from a particular set of symptoms. By putting symptoms in the context of a person's life, we can help them move through their health issues in a more effective way. The importance of the context of their story allows us to choose an intervention that fits within their story."
There are four pillars of integrative medicine – social, psychological, physical and environmental – all of which focus on health care rather than disease care. From Rakel's point of view, an integrative approach is the revolution of healthcare even though it will be difficult to change the culture by shifting attention away from how doctors were trained towards a new way to facilitate health and healing. Through NIH studies, it has become clear that integrative medicine necessarily changes the shape of research. In using an integrative lens, the medical research community has discovered that studies can no longer be done the way they were for supplements or medication, which focused on a tiny part of the picture and were unable to understand how a complex system heals. New studies are expanding awareness of how inter-related, for example, a neck problem might be. Acupuncture might be necessary for managing the pain, a physical therapist might be needed to release tension in the impacted muscles, and a yoga or meditation practice could help create an awareness of emotions to understand where the stress originated from and how it was being generally held in the neck.
"While research is our guide, evidence informs medicine and guides us towards a more effective art," advised Rakel. "It takes our culture a long time to change. The first five people to start something new are generally labelled quacks. The next 100 are called innovators and after that there's a cultural shift."
No longer in the lane of quackery, integrative medicine has finally begun to receive the evidence boost it deserves. Through magnetic resonance imaging, for example, the pathways between the mind and body can be lit up. The connections between using food as medicine, physical activity, and good health are clearly no longer in dispute, and therapeutic breathing is more widely used for its scientifically supported impact on a variety of disease states, including the autonomic nervous system.
In the Preface of Rakel's textbook INTEGRATIVE MEDICINE Fourth Edition he writes, "Reducing cost and improving quality with better outcomes can be achieved with an integrative approach where professionals combine their expertise in service of facilitating health within the complexity of people's lives." He goes on to write, "The science and research of our work is often linear. We have a cause, a result and a treatment. But how we apply it is circular. It intertwines within the context of someone's life, artfully prescribed based on insight gained from listening to someone's story."
His textbook and teachings give evidence and weight to the use of therapies that add value and create excellence in healthcare while reducing costs that have better outcomes. In the current medical model, the focus on driving payments up equates to making disease a currency, which in 2016, drove more than 640,000 Americans to file for medical bankruptcy. The integrative approach is truly patient centered, working to create health while empowering the patient to learn practices they can use at home to prevent disease, improve disease outcomes and prevent a disease recurrence. Guided imagery, for example, can ignite all the senses to control pain, anxiety and stress. It can lessen chemotherapy induced nausea and vomiting, and help the patient focus on devising stories about their body beating the cancer. I used this technique of visualization daily during my battle to force the cancer out and reclaim control of my body.
Rakel teaches how physicians can write a "lifestyle prescription" for their patients, which is an individualized plan based on the spirituality, personality, health, energy, and resources of that patient. He also calls on his students to quiet the clutter of their own minds so they can connect to what is happening in the present moment more authentically. In doing so, they will become better diagnosticians with a clearer path as they guide their patients towards healing. By becoming still and present with the patient, Rakel asserts, physicians can influence their patient's own ability to become still to initiate their self-healing mechanisms.
"It's a mysterious process, but it's real and only works when the physician becomes authentic with themselves," Rakel explains.
In his own practice, Rakel lives by three important rules – Pause, Be Present and Invest in the Process.
Pause and retreat from your routine and spend quiet time in natural areas to clear the clutter and self-assess.
Be fully Present with yourself and others.
Be brave enough to turn towards suffering and make human connections. Healing oriented work is energizing, and goes both ways. Often, we get just as much out of it as those we are trying to help. It's a Process.
Rakel is board certified in sports medicine, family medicine, integrative medicine and interactive guided imagery. He is the founder and was the director of the University of Wisconsin Integrative Medicine Program and associate professor in the Department of Family Medicine at the UW School of Medicine and Public Health. Rakel is the editor of the text, Integrative Medicine, now in its 4th edition and co-editor with his father of the Textbook of Family Medicine, 8th and 9th editions. He is editor-in-chief of Practiceupdate.com for Primary Care. He has several teaching awards including the Baldwin E. Lloyd clinical teacher award, the UW Department of Family Medicine faculty excellence award, the Marc Hansen lecture award, the resident teacher-of-the-year award and the Leonard Tow award for compassionate care. He is also a member of the Gold Humanism Honor Society, and his new book, THE COMPASSIONATE CONNECTION: The Healing Power of Empathy and Mindful Listening is due out by W.W. Norton in 2017.
It's clear from my own experience of being deeply embroiled in the medical community, that a doctor must be curious and willing to learn what they don't know to better serve their patient. I would advise all physicians to seek out and choose continuing education opportunities that expand the sides of their tool box to encompass the growing field of integrative medicine, and become true care givers for their patients. Without Dr. David Rakel in my corner, it's hard for me to see how I could've ended up healthy and cancer free 12 years after the first diagnosis.
Written by Kathy Mydlach-Bero, Author, Speaker, Holistic Health & Cancer Coach https://www.justfortoday.health/
To read Kathy's story, visit Amazon for your copy today. Click Here
---
An excerpt from E.A.T. An unconventional decade in the life of a cancer patient by Kathy Mydlach-Bero
The last time I saw Dr. Rakel before he took a job in New Mexico, he explained how he believed I became cancer free, "There are three human characteristics shared by those who do well with cancer. They have a strong social support system, the ability to roll with the "punches," and they never take no for an answer. Kathy, you fit all three of those characteristics. Remember, that which we give attention to grows. There is no reason for you to doubt where you are today. You are simply proactive and were able to recognize the self-healing abilities in your body, and then acted upon them. In my work, I've found that proactive patients always do better than passive ones."
I deeply valued his kind and very thoughtful words, but I didn't always "roll with the punches." It was hard not to give attention to the aggregate of side effects that made each day a little bit harder, but I heard his point loud and clear. I was deeply grateful for the cache of doctors I enjoyed who were willing to work on the same complementary medicine page as I was, supporting me in my desire to go beyond sanctioned protocols. I did what I did because that was who I wanted to be. Some steps forward were easy, but most were not.
Join the conversation. Create a topic in our forum.