November 9, 2014 | Author: Carl Wagner, Sr., DOM
---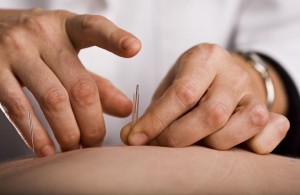 Let me preface this article by letting you know that I am not a specialist in the treatment of cancer. In my practice, I treat a broad range of conditions and I treat patients of all ages. In the course of my practice, I have had the privilege of treating patients that were also receiving conventional cancer treatments.
I practice a Japanese style of acupuncture, but any style of acupuncture can support a patient through the rigors of conventional cancer therapies. Japanese acupuncture uses gentle painless techniques and ultra thin needles to send signals to the central nervous system via the skin. Currently, disposable one-time use stainless steel needles are standard in the field, and no reports of cross-infections have been reported to date.
How can acupuncture help fight cancer?
The purpose of acupuncture in cancer treatment is twofold. First, to enhance the immune system and bring the patient back to a state of balance, and second, to give relief from the strong side effects of conventional treatments, which are primarily chemotherapy or radiation, and may also include surgery. Acupuncture can also have a calming and centering effect on patients, and for many patients this is the only island of relief they have from the tremendous stress of dealing with cancer.  While undergoing conventional treatments, it is important to get acupuncture weekly, if possible. If that is not possible, every other week will still be beneficial.
Living organisms have an instinct towards healing and survival. When we cut ourselves, the wound bleeds, a scab forms, and finally new skin repairs the wound. This ability to self heal is enhanced by acupuncture. As a matter of fact, I believe this is the way acupuncture works. The ability of acupuncture to bring the body to a state of homeostasis and stimulate the natural healing ability of the patient makes acupuncture particularly useful for protection against cancer, or any other disease.
According to Oriental medical theory, disease is a manifestation of imbalance in our normal body processes. Our natural, healthy state of being is a reflection of all of our internal functions working in harmony. There are many contributing factors that disrupt our balance including life style, diet, exposure to toxins, and stress. Oriental medicine also posits that emotions are one of the root causes of all diseases.
Acupuncture combined with a healthy life style can be a significant preventive measure as well. A healthy life style includes a balanced diet free of processed foods, moderate physical activity, and stress management. Acupuncture can significantly help to reduce stress, and practices such as yoga, tai chi and meditation can be a daily dose of calm support for the stresses we face.
How do I find a good acupuncturist?
Most states license acupuncturists. The current entry level for practitioners requires the equivalent of a Master's degree that includes over 2000 hours of training in Oriental medical theory and practice. Graduates of acupuncture programs then take a national test, and possibly a state sponsored test, to become certified. Medical doctors and chiropractors can also be licensed to perform acupuncture after a 200 hour training that mostly encompasses pain relief without any Oriental medical theory.
Although you may be able to find a qualified acupuncturist on the internet, it is best if you get a personal recommendation from someone who is receiving treatments, perhaps in your support group. The National Commission for the Certification of Acupuncture and Oriental Medicine  (NCCAOM) maintains a list of certified practitioners on their website, but this only guarantees that they have passed the testing and does not reflect their competency or ability.
The various approaches to treatment by acupuncturists are as individual as the practitioner and depend on their post graduation continuing education, personal interests and preferences. Should you have a bad experience with the practitioner you have chosen, remember that you can have a totally different experience with another practitioner. You should feel comfortable with your acupuncturist and be able to ask any questions or express any concerns.
Join the conversation. Create a topic in our forum.
---
Dr. Wagner started his education in Oriental Medicine at the age of 46 and received his Master of Oriental Medicine degree from the International Institute of Chinese Medicine in 1994. He completed his National Boards and became licensed in New Mexico the same year. Concurrent with his last two years in school, Dr. Wagner apprenticed in the Kototama style, working daily in his teacher's clinic. After graduation, Dr. Wagner opened a rural clinic in Chamisal, NM, treating the local Hispanic and Native American population several days a week while also maintaining a clinic in Taos. He now continues with a busy practice at his White Crane Clinic in Taos, New Mexico, successfully treating patients with Japanese style acupuncture. Since his graduation 20 years ago, Dr. Wagner has devoted himself to the study of Japanese Acupuncture. In 2007 and 2008, he traveled to Japan to study Japanese acupuncture first hand with some of the best contemporary masters in the country. This experience was transformational in developing his current style of acupuncture.
Contact Dr. Wagner at: White Crane Clinic or Call: (575) 758-2700