July 21, 2014 | Author: Elyn Jacobs
---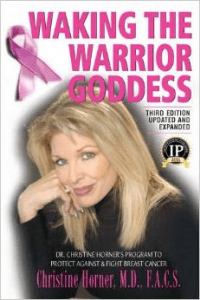 Interview with Elyn Jacobs, Survive and Live Well, W4CS Radio, June 3, 2014
In this podcast, Dr. Horner talks about the proven science behind protective strategies for breast cancer.  She covers many timely topics like:
Natural ways to cut your breast cancer risk  in half
Do mammograms really save lives?
How does breast thermography work?
Breast cancer and flaxseeds
Soy and breast cancer
Phytoestrogens and estrogen receptors
Turmeric and green tea
Melatonin and breast cancer
Ayurvedic treatments to reduce toxins
AHCC medicinal mushrooms for immunity
Toxic relationships and breast cancer
Protective Breast Formula
Listen Here: 

Subscribe to iTunes
Join the conversation. Create a topic in our forum.
---
Christine Horner, M.D., FACS, is a nationally known surgeon, author and professional speaker. She holds board certifications from the National Board of Surgery and the National Board of Plastic Surgery. Dr. Horner successfully ran a national campaign to pass laws requiring insurance companies to pay for breast reconstruction following mastectomy. Her five-year crusade with the Breast Reconstruction Advocacy Project (BRA Project) led to the passage of a federal law signed by President Bill Clinton on October 21, 1998. One of the country's leading authorities on breast cancer prevention, Dr. Horner is the award-winning author of  Waking the Warrior Goddess: Dr. Christine Horner's Program to Protect Against and Fight Breast Cancer , now in its third edition.  The book is a comprehensive guide to all research-proven natural approaches to prevent and fight breast cancer.