December 12, 2014 | Author: Susan Silberstein PhD
---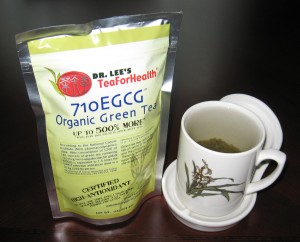 Many of you know that I recommend green tea as part of an anti-cancer dietary plan. But not just any green tea. While generally pleasant, harmless, and possibly of health benefit, most green teas on the market are not necessarily therapeutic. If you have heard me lecture, you probably realize that not all green teas are alike.
The only green tea I endorse with any kind of certainty for known cancer protective value is Dr. Lee's Tea for Health. I was honored to meet Dr. Lee many years ago and was impressed with his generosity as well as his knowledge, scholarship, and attention to detail. Simply put, this is a man who knows what he is talking about.
Sin Hang Lee, MD, has been a practicing pathologist in New Haven, Connecticut, since 1971. He is qualified to practice medicine in the United States, Canada and the United Kingdom and is certified as a medical specialist in pathology by the American Board of Pathology and the Royal College of Physicians and Surgeons of Canada. Dr. Lee did his postgraduate training at Sichuan Medical College (University of Hong Kong), as well as at New York Hospital-Cornell Medical Center, Memorial Hospital for Cancer and Allied Diseases, McGill University, and Yale University.
Dr. Lee's research interests range from cell biology to cancer. He was the first to report that adenocarcinoma was the most prevalent lung malignancy among the Chinese living in Hong Kong (British Journal of Cancer 17, 1963). Dr. Lee also patented the first FDA-approved estrogen receptor assay which identifies human breast cancers that may respond to hormonal manipulation or tamoxifen treatment. His recent medical research concerns human papillomavirus (HPV) testing, diagnosis of infections caused by sexually transmitted diseases, and reversal of Lyme disease.
While pathology has been Dr. Lee's vocation for decades, his avocation was researching the growing, harvesting and brewing methods of green teas. He also did a thorough literature review of hundreds of published studies on green tea and demonstrated that green tea, in the right amount, type and quality, can protect against nearly every type of human cancer.
There are actually 13 different mechanisms by which green tea has the potential for anti-cancer activity. One key mechanism has to do with its antioxidant activity, and that in turn relates to the tea's content of antioxidant catechins and epigallo-catechin gallates (EGCGs). Tea For Health provides as much as 500% more cancer-fighting EGCGs than other teas. Dr. Lee's tea is grown to extremely rigid quality standards, and every batch is tested twice during processing and packaging for total catechins and EGCGs. Moreover, this is the first and only green tea that has officially been allowed to make a qualified cancer claim:
"According to National Cancer Institute data, daily consumption of 1200 ml (40 ounces) of green tea containing 710 mcg/ml (10% minimum total catechins) of epigallo-catechin gallate (EGCG) is equivalent to 1.5 times the lowest effective anti-cancer dose in a 150 pound adult."
When I learned last year that Dr. Lee, under pressure from the FDA to choose between his green tea business and his other research pursuits, reluctantly decided to give up the tea, I was extremely disappointed. So were many of my patients and many of his customers. One of them, John Bossen, decided to do something about it. In his own words,
"For various reasons, we have been involved with BeatCancer.org, and Dr. Lee's Organic TeaForHealth has been an important part of that organization and my family's healthy lifestyle. Therefore, we decided to approach Dr. Lee and tell him how important it was to continue providing the tea. We offered to take over the distribution if it would keep the supply flowing. It became apparent that he had a wide network of family, friends and patients that he did not want to let down, so he was actually quite excited about our offer to take it over and we worked out a deal to maintain this very special tea business. Subsequent to our announcement, we have been deluged with letters and emails of thanks and support. So many expressions of gratitude reinforced our decision to help keep this important product available."
Among many others, here is one such communication that John shared with me:
"You've given me something worth more than wealth! You've given me a treasure – some Tea for Health!My immune system smiles with this head start! Thank you so from the bottom of my heart!" – Pam
I, too, want to thank John for his great commitment of time, effort and financial expense to make this tea available to others all over the country and abroad. To learn more about Dr. Lee's green tea, you can order our special issue of Immune Perspectives magazine, visit
TeaForHealth.com, or call 855-711-1604.
Join the conversation. Create a topic in our forum.