July 29, 2018 | Author: BeatCancer.Org
---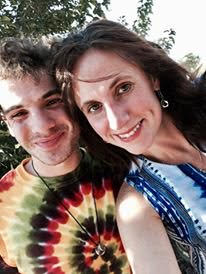 My journey began in health and wellness when I had lyme disease and a mold exposure. After several medications and not getting better I decided to learn, research and help myself. After losing all the medications and 70 pounds I regained my health! Detoxification became a passion for me. Little did I know I was being prepared for another journey.
You see our family was very familiar with conventional medicine. In 1997 my son was born with a rare heart defect called Hypoplastic Left Heart Syndrome. A few months after birth he had a heart transplant. Many hospital stays, doctor visits and testing would fill many years of our lives. Jared was doing well until the age of 16 when he was diagnosed with stage 4 Hodgkins Lymphoma. He was given 6 months to live. Jared wanted to try another way. So my additional research began. I quit my job working for our local police department. I emptied my retirement to look for natural treatments. I believed there must be a way! My son Jared became my first client!
In 6 months
he was
cancer
free and has now been cancer free for 3.5 years.
I pursued a personal training career where I do personal training with clients in Camp Verde, Arizona. I became a certified Holistic Nutrition coach through Body Mind Institute. I became a
Certified Holistic Cancer Coach
through Beatcancer.org. I am currently finishing my certification through Forks Over Knives for additonal food prep ideas for my clients. Jared and I have spoken at several health and wellness events in Sedona, San Diego, Tucson, Phoenix, Pennsylvania and New Jersey.
I offer services for my local clients but have many long distant clients as well. For long distant clients I offer phone, zoom or skype sessions. I address the whole body and mind aspect of wellness. Together with my clients I encourage, provide hope and break down their steps to achieving what many have not thought to be possible. The time on Earth we have is precious, many of us really start to life when we see the urgency!
Lisa Diacik
155 South Montezuma Castle Hwy Unit #3
Camp Verde,AZ 86335
928 300 6299