April 3, 2017 | Author: Susan Silberstein, PhD
---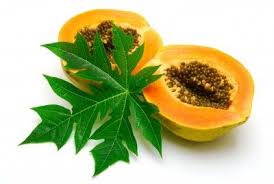 This article is based on a 2013 post by Dr. Paul Haider which was recently shared with me by Cancer's Best Medicine author Mauris Emeka. When Mauris learned about these little-known all-natural leaves that have been helping people who are challenged with cancer, he felt the information was both timely and important and asked that I share it with you. What follows is my own adaptation of Dr. Haider's post.
Most people enjoy eating the papaya fruit, but not many know about the amazing health benefits of papaya leaves. These include anti-aging properties, the ability to reverse vitamin deficiencies, and mitigation of health issues like acne and other skin problems, as well as menstrual pain, cataracts, colds, flus, dengue fever, emphysema, cardiovascular disease and risk for stroke. Moreover, papaya leaves can help reverse conditions which could be precursors of cancer like constipation, indigestion, heartburn, acid reflux, gastric ulcers, inflammatory bowel disease, malnutrition, and enlarged prostate (BPH).
Papaya Leaves for Cancer
In addition to the powerful healing compounds in papaya leaves that are very important for health and vitality in general, the leaves can also help in controlling cancer. Papaya leaves have a milky sap that's great for preventing and killing cancer cell growth because it contains acetogenin. Acetogenins are a family of natural products with antitumor activities that include inducing cancer cell death via apoptosis.
Research has shown that papaya can stop the growth of breast cancer cells, halt metastasis, and normalize the cell cycle; and scientists at the University of Illinois believe that its antioxidant activity contributes to its effectiveness as an anti-cancer agent. University of Florida researchers did studies showing that papaya leaves contain agents that can kill cancer, especially cancer of the cervix, prostate, liver, breast, and lung.
Down through Australian history the native aboriginal people have talked about papaya leaf tea as a great cancer healing agent. According to Dr. Haider, many people have cured their cancers by drinking papaya leaf tea for extended periods of time. However, while the anecdotes are exciting, the research still has a long way to go.
According to the Memorial Sloan Kettering Cancer Center website,
"Papaya leaves exhibit antitumor, immunomodulatory, and antioxidant effects in vitro. The leaf extracts contain antibacterial compounds that inhibit the growth of a wide variety of…bacteria. In mice, a powdered suspension of papaya leaves increased thrombocyte count and a water extract reduced alcohol-induced stomach damage….Papaya leaf extract showed low toxicity in an animal model, but it has not been studied in humans."
Here are some of the specific ways in which papaya leaf can potentially help those with cancer:
Chemotherapy: Papaya leaves can enhance chemotherapy effectiveness and help with chemotherapy side effects.
Immune Function: Papaya leaves contain lots of powerful antioxidants and can boost your immune system. In particular, papaya leaves produce "Th1," an anti-cancer cytokine.
Platelets: Papaya leaf tea can reverse thrombocytopenia (low platelet counts), a common condition in patients treated for cancer which keeps blood from clotting. Several studies have shown that papaya leaf tea can increase platelet counts, and an international patent has now been filed for its use in improving low platelet counts.
Poor Appetite: Many cancer patients suffer from lack of appetite. Papaya leaf tea improves appetite, bringing vigor and vitality back to the body.
Malnutrition: Papaya leaves contain vitamins A, B, C, D and E, as well as antioxidant flavonoids and carotenes. They also contains 50 or more different amino acids such as threonine, glutamate acid, glycine, valine, leucine, phenylalanine, lysine, tritophan, cysteine, histidine, tyrosine, alanine, proline, aspartate, and digestive enzymes like papain which help digest protein, carbohydrates and fats.
Sources of Papaya Leaves
You can prepare your own papaya leaf tea. Most experts recommend taking 10 leaves, cutting them up, and boiling them in one half gallon of water until it reduces down to a quart. Then let it cool, store the tea in the refrigerator for two days in a glass jar with a tight fitting lid, and drink as much as possible. The more concentrated the tea the better the results, and there are no side effects of any kind.
Easier yet, you can purchase papaya leaf tea or extracts online or ask for them at your local health food store. Both Dr. Haider and Mr. Emeka recommend the Herbal Papaya Company, which offers organic, GMO-free papaya leaf products. You can order from their website herbalpapaya.com or call toll free 800-820-4829.
Join the conversation. Create a topic in our forum.
---
Dr. Paul Haider has been a Master Herbalist and Spiritual Teacher for over 30 years. The author of 4,000 articles about natural health and spirituality, he is also a radio show host and creator of multiple Youtube videos and magazine articles including several in OM Times Magazine. He can be reached by email at drpaulhaider@gmail.com, by phone at 831-869-9119 EST, by skype at drpaulhaider, or online at www.paulhaider.com . His consultations are free, but he accepts donations.