May 23, 2017 | Author: Susan Silberstein, PhD
---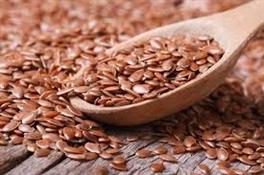 For decades, I've been teaching about the role of diet in preventing breast cancer, preventing recurrence, and improving breast cancer survival. One key ingredient in that diet is flaxseed, primarily becaus of it lignan content. Flaxseeds are the world's most concentrated source of lignans. However, lignans are found throughout the plant kingdom—in seeds, whole grains, vegetables, fruits, and berries. In fact, those who eat lots of plants have about eight times the lignan intake than omnivores.
Can Flaxseeds Prevent Breast Cancer?
High lignan intake is definitely associated with reduced breast cancer risk. Researchers from the University of Kansas gave women at high risk for breast cancer a teaspoon of ground flaxseeds a day for a year, and found on average a drop in precancerous changes in the breast. (I actually recommend up to six times that amount!) Matching 3,000 women with breast cancer to 3,000 women without, a study published in Cancer Causes and Control found that consumption of flaxseed was associated with a 20–30 percent reduction in breast cancer risk. The researchers concluded that only a small daily serving of flaxseed is required to attain the level of lignan intake associated with a reduction in breast cancer risk.
Can Flax Lignans Influence Survival?
Studies have shown that women with breast cancer who eat the most lignans appear to live longer. In a petri dish, lignans have exhibited direct activity against human breast cancer cell growth as well as the ability to prevent cancer cell migration. In 2005, researchers from the University of Toronto conducted an impressive randomized double-blind placebo-controlled clinical trial of 32 human breast cancer patients. The researchers found that flax appears to have the potential to reduce human breast tumor growth in only four weeks.
Specific Ways Flaxseeds Are Protective
There are probably four ways that flax can contribute to breast cancer protection. First, flaxseeds are rich in immune-boosting omega-3 fatty acids. Moreover, because flaxseeds are mucilaginous (slippery), they help move stool out of the body and prevent constipation, a risk factor for breast cancer. One important way in which flax lignans protect against breast cancer is by binding up and escorting out circulating hormones and carcinogens that promote the disease. Another way is by inhibiting inflammation. As Michael Greger, MD, explains:
"There's an inflammatory molecule called interleukin-1, which may help tumors feed, grow, and invade. Our bodies therefore produce an interkeukin-1 receptor antagonist, binding to the IL-1 receptor and blocking the action of IL-1. The activity of this protective inhibitor can be boosted with the drug tamoxifen—or by eating flax seed. In premenopausal women, the proinflammatory profile of interleukin-1 can be counteracted by a dietary addition of a few spoonfuls of ground flax. One month of flax may be able to increase the anti-inflammatory inhibitor levels by over 50 percent, better even than the drug."
Conclusion
Although removing breasts or ovaries and taking the drug tamoxifen have been shown to reduce estrogen receptor positive breast cancer incidence and recurrence, these benefits may come at a high price. (Tamoxifen, for example, can cause other severe side effects such as uterine cancer and blood clots.) Whenever possible, we favor safe, non-toxic breast cancer preventive strategies such as dietary and lifestyle modifications. Flax lignans appear be one successful way to reduce breast cancer risk and improve breast cancer survival.
But eating flaxseeds is only one aspect of a comprehensive breast protective diet. As Dr. Greger quipped, "Lignans are not a magic bullet to prevent breast cancer—we can't just sprinkle some flax on your bacon cheeseburger—but as a part of a healthy diet and life-style, they might help to reduce breast cancer risk."
Join the conversation. Create a topic in our forum.
References:
[1] Abrahamsson A, Morad V, Saarinen NM, Dabrosin C. Estradiol, tamoxifen, and flaxseed alter IL-1β and IL-1Ra levels in normal human breast tissue in vivo. J Clin Endocrinol Metab. 2012 Nov;97(11):E2044-54. Epub 2012 Aug 28. https://www.ncbi.nlm.nih.gov/pubmed/22930784
[2] Buck K, Zaineddin AK, Vrieling A, Linseisen J, Chang-Claude J. Meta-analyses of lignans and enterolignans in relation to breast cancer risk. Am J Clin Nutr. 2010 Jul;92(1):141-53. Epub 2010 May 12. https://www.ncbi.nlm.nih.gov/pubmed/20463043
[3] Greger M. Can Flax Seeds Help Prevent Breast Cancer? https://nutritionfacts.org/video/can-flax-seeds-help-prevent-breast-cancer/
[4] Greger M. Flaxseeds & Breast Cancer Survival: Clinical Evidence. https://nutritionfacts.org/video/flaxseeds-breast-cancer-survival-clinical-evidence/
[5] Greger M. Flaxseeds & Breast Cancer Survival: Epidemiological Evidence. https://nutritionfacts.org/video/flaxseeds-breast-cancer-survival-clinical-evidence/
[6] Greger M. Preventing breast cancer with flax seeds. http://nutritionfacts.org/2016/05/26/preventing-breast-cancer-with-flax-seeds/
[7] Lowcock EC, Cotterchio M, Boucher BA. Consumption of flaxseed, a rich source of lignans, is associated with reduced breast cancer risk. Cancer Causes Control. 2013 Apr;24(4):813-6. Epub 2013 Jan 25. https://www.ncbi.nlm.nih.gov/pubmed/23354422
[8] McCann SE, Thompson LU, Nie J, Dorn J, Trevisan M, Shields PG. Dietary lignan intakes in relation to survival among women with breast cancer: the Western New York Exposures and Breast Cancer (WEB) Study. Breast Cancer Res Treat. 2010 Jul;122(1):229-35. Epub 2009 Dec 22. https://www.ncbi.nlm.nih.gov/pubmed/20033482
[9] Saarinen NM, Wärri A, Airio M, Smeds A, Mäkelä S.Role of dietary lignans in the reduction of breast cancer risk. Mol Nutr Food Res. 2007 Jul;51(7):857-66. https://www.ncbi.nlm.nih.gov/pubmed/17576639
[10] Thompson LU, Chen JM, Li T, Strasser-Weippl K, Goss PE. Dietary flaxseed alters tumor biological markers in postmenopausal breast cancer. Clin Cancer Res. 2005 May 15;11(10):3828-35. https://www.ncbi.nlm.nih.gov/pubmed/15897583